With TikTok overtaking Google's place last year as the most popular website on the whole internet, TikTok's weight in marketing can no longer be overlooked.
Having the fastest-growing user base of all time, TikTok is likely to soon become advertisers' focus social media platform – being transferred to the greatest part of the marketing budgets.
So, where does this leave its main competitor — Instagram Reels' feature? Here's how the picture looks for now.
While in the US, the total number of TikTok accounts makes for only half of Instagram's audience, when looking at both platforms from a performance perspective, TikTok is obviously the leading network.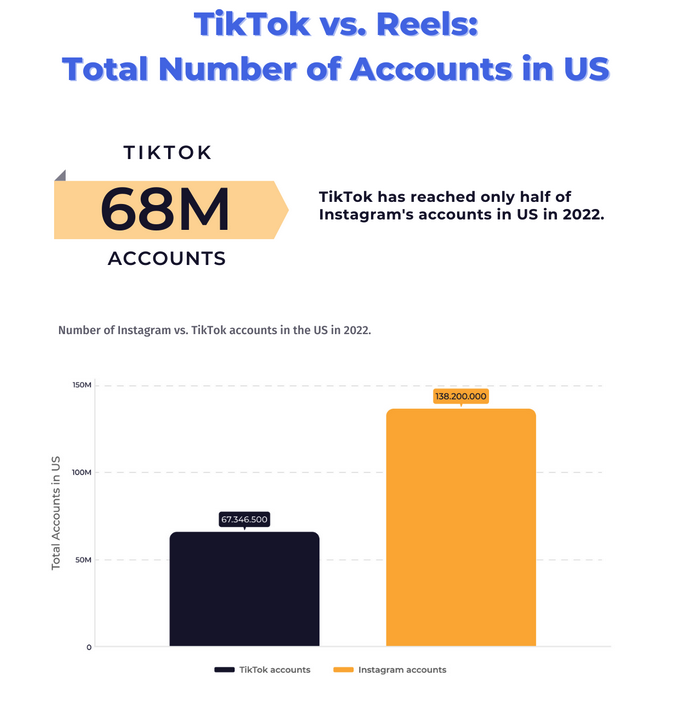 Having an engagement rate that's at least six times higher than Instagram Reels' – based on a study conducted by Socialinsider – TikTok is highly appreciated for its more authentic, unhinged content and the less disruptive navigation and experience it offers.
This is obviously facilitated by the platform's current underdevelopment of its paid advertising features, which are not mature enough yet – compared to older platforms such as Instagram.
Speaking of it, since being dethroned as the most fashionable social network with TikTok's incredible uprising, Instagram's struggle to keep its user base loyal continues to grow day-by-day – despite the quick and enlarging adoption of Reels.
Unquestionably, Reels – ever since entering the social media scene – have started to make some noise, getting fast notice, right now making up for 20% of the time spent on Instagram.
However, despite the platform's hard push on its new feature, Instagram Reels are having a harder time than TikTok in keeping social media users interested in exploring and engaging with the content within the platform.
According to the same study mentioned, Instagram Reels get 44% fewer comments than TikTok videos.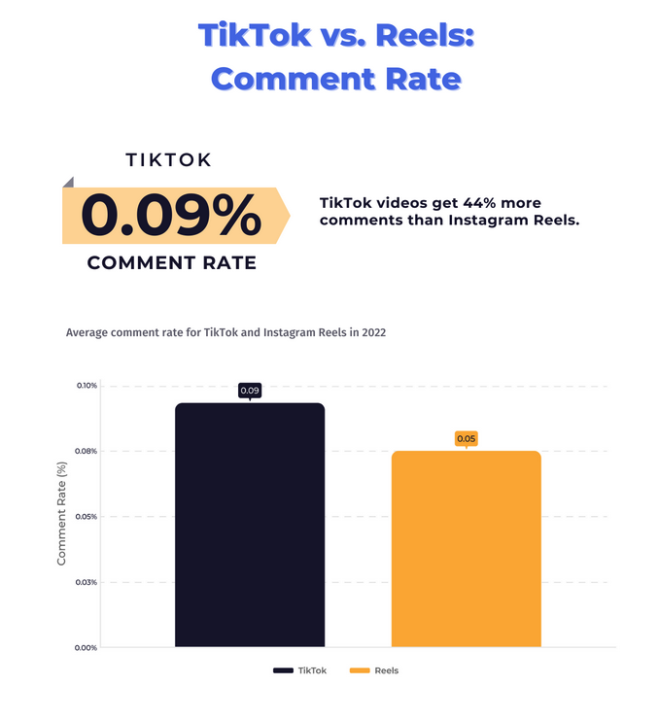 Ultimately, given than Reels have only borrowed TikTok videos' short form concept, it is only natural for the users to favor the original platform that introduced the newer video format.
Probably, to make a significant comeback, the next step should be for Instagram to either come up with an entirely new concept or to develop further its Instagram Reels in a completely new and innovative way.
Furthermore, with YouTube entering the playground of short video content with its Shorts feature, it seems we are only at the threshold of a new social media era.
With 44% of social media users picking TikTok as their preferred short-form video service for the moment, Reels and YouTube Shorts are competing with each other for second place, trying to catch up on TikTok's success.
However, as all gigantic mother companies of these platforms are set to invest monumental budgets into expanding these new features, the future of social media and short-form video content is more unpredictable than ever.
While TikTok is expected to remain the crowned social media platform when it comes to engagement for the foreseeable future, data reveals it is not invincible.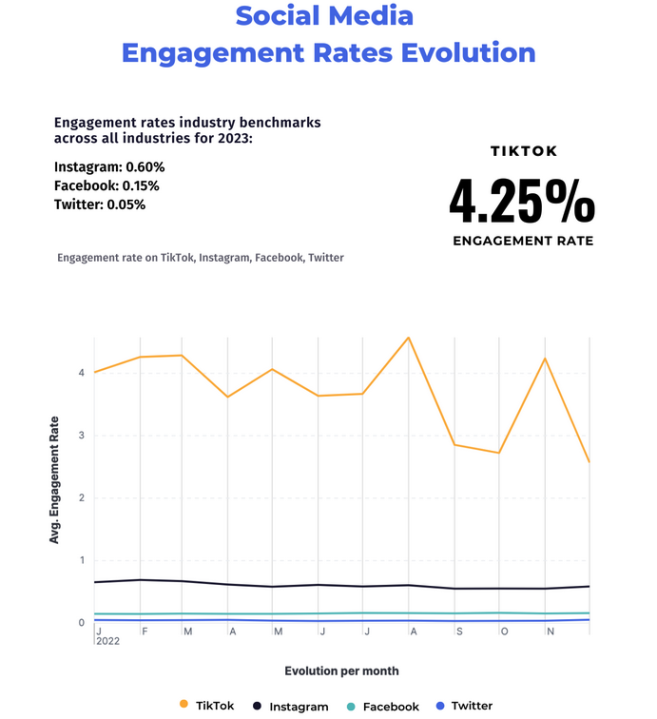 If until recently, Instagram, altogether with the rest of the major social networks, registered a significant engagement drop that led to TikTok's insane engagement levels, with 2022 ending, the social media landscape has changed once more.
For sure, there's no denying that TikTok records the highest engagement overall, but starting with last year, it has equally recorded an engagement drop – of no more or less than 28%.
Overall, while TikTok stands at the moment at an average engagement rate of 4.25%, Instagram's engagement has dropped to the value of 0.60%.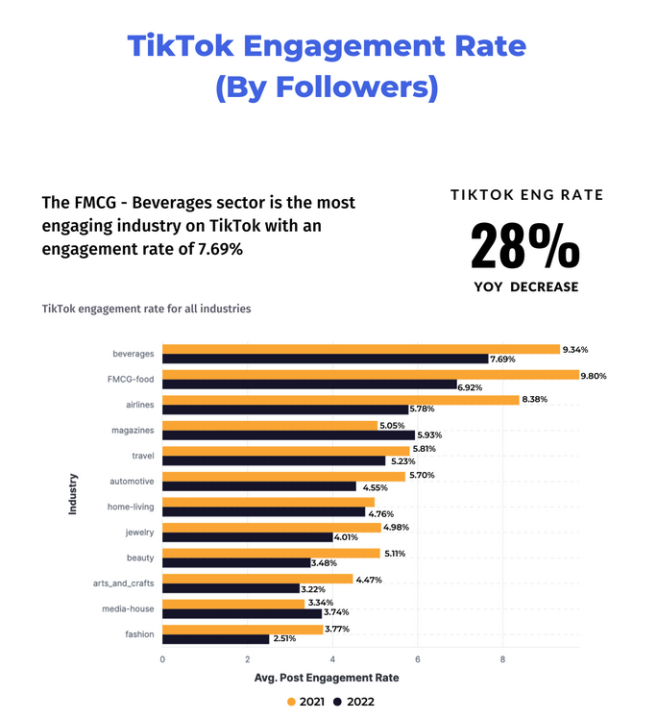 As revealed by Socialinsider's latest study related to social media industry benchmarks, on TikTok, the most engaging industries are ones within the FMCG sector – meaning beverages, followed by food brands.
When heading over to Instagram, airlines make for the most engaging industry on the platform for the moment.
Back to TikTok for the last part of the analysis of nowadays' social media landscape and trends – with the platform's so unique algorithm, an equally helpful insight for you – marketers worldwide – is that, on average, brands include four hashtags in a TikTok video's caption (from rivaliq dotcom blog).
However, with TikTok trying to be more of a search engine, displaying content based on keywords and interests, when planning to launch your business' TikTok account, it may be helpful to have an idea of what the main interests on TikTok are at the moment to better understand your audience.
Continue
All in all, given the platform's future orientation and marketing potential, it has become a must for brands that are interested in leveraging TikTok to seriously step up their copywriting game.
Credit Inner Article Images: Provided by the Author; Socialinsider; Thank you!
Featured Image Credit: Provided by the Author; Socialinsider; Thank you!
Source link