Pancit Bam-I is a Filipino noodle recipe that is a combination of pancit canton and sotanghon noodles along with different vegetables and meat dishes. It is a popular pancit dish that originated in Cebu in Bisaya Region.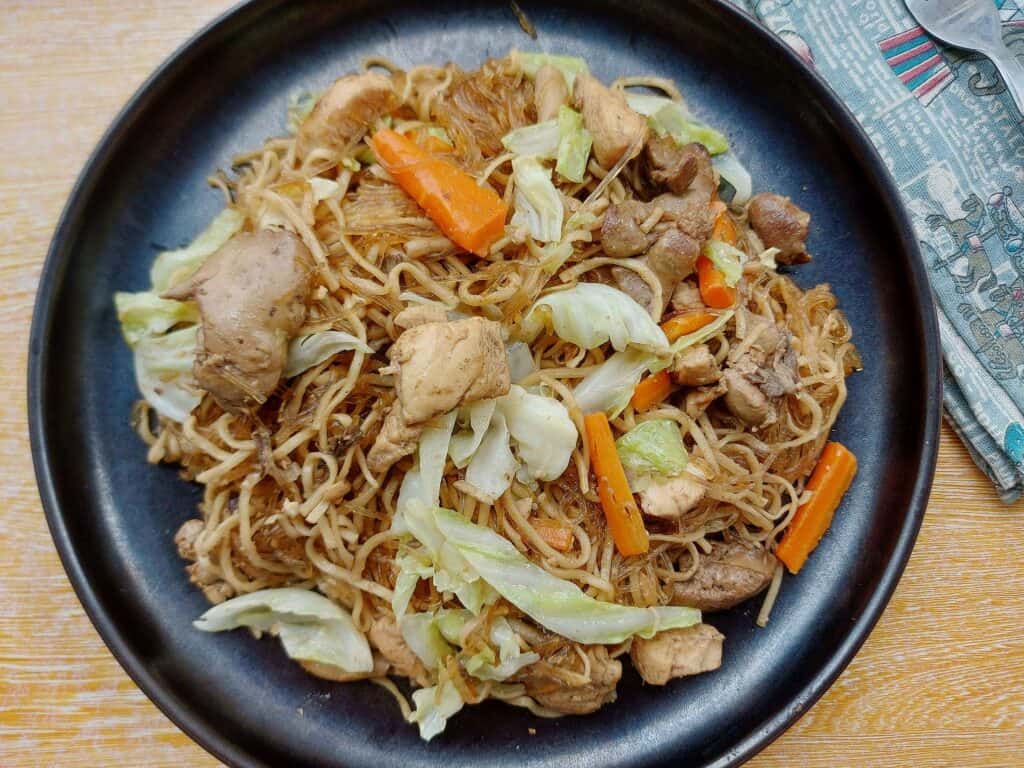 Jump to:
While living in the Philippines, I have tried many noodle dishes that are delicious and nutritious too. We called this dish a "pancit" which is considered a Chinese-influenced Filipino food. This is not surprising since most of the noodles dishes from Southeast Asia and India were introduced by Chinese traders during the old times.
My mother, who is from the Philippines, introduced me to many kinds of amazing pancit dishes, which include the Pancit Canton, Pancit Sotanghon, and Bam-I noodles. Out of those 3 amazing noodle dishes, I would say the Bam-I is one of my favorite noodle dishes I tried in my life.
In this post, I will show you the recipe for how to make an authentic pancit Bisaya from Cebu called Bam-I that I learned from my mother's cooking. My mother is an amazing cook, and I learned most of the Filipino recipes from her.
What is Bam-I?
Bam-I or Bam I is a Cebuano or Bisaya pancit dish that contains a combination of egg noodles and vermicelli or glass noodles which also contain different proteins like chicken, liver, and tofu.
In addition to that, to make it nutritious, we also added different vegetables like carrots and cabbage. Lastly, it is seasoned with oyster and soy sauce, popular condiments used in most Filipino cuisines.
Like any Pancit, Bam-I is traditionally served during special occasions like parties, fiesta, or family gathering in Filipino culture we believe serving this food symbolize long life
Recipe Ingredients
Here are the ingredients to make this delicious Pancit Bam-I Recipe: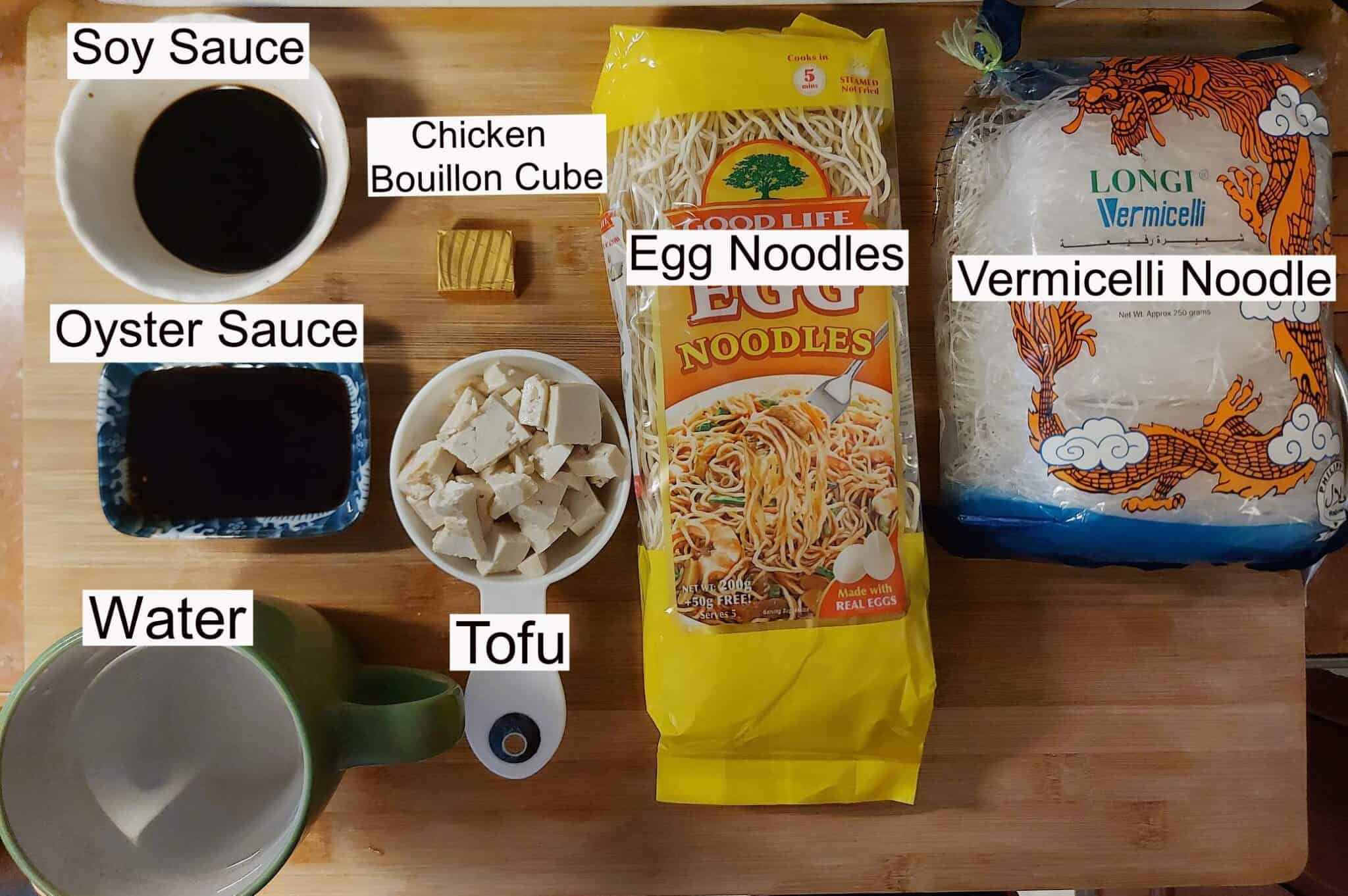 Protein: To add protein I use boneless chicken breast, chicken liver, and tofu.
Vegetables: Every noodle always has vegetable dishes to which I added carrots, cabbage, and mushroom.
Herbs: I used Onion and Garlic since they add flavor to my Bam-I recipe.
Noodles: There are two noodle products I am using: the egg noodle which is used for pancit canton, and the vermicelli noodle, which is used for pancit sotanghon. These two are very important ingredients, and you cannot replace them with other kinds of noodles.
Condiments: For seasoning the pancit, you definitely need oyster sauce. soy sauce, salt, black pepper, and chicken bouillon cubes.
Other Ingredients: You will need Water to help soften the noodles, and vegetable oil to saute the proteins and other ingredients.
Step by Step Instruction
Here are the instruction on how to cook a Pancit Bam-I: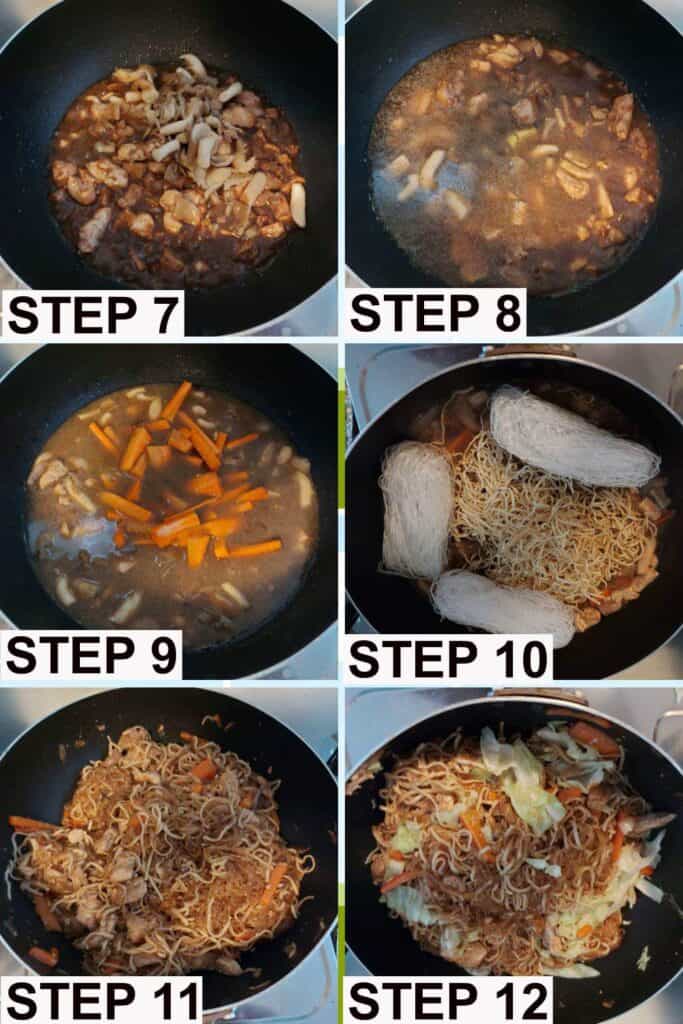 Firstly, I added vegetable oil to the pan I then sauté the onion and garlic
Next, I added the chicken liver & tofu first, followed by chopped chicken breast. Mix to stir till it's cooked which will take 5 minutes.
Add oyster and soy sauce and mix to combine. After that, I remove some liver and transfer it to a plate for later use.
Add the chopped mushroom and mix it again before pouring water and the chicken bouillon cube. Once it started to boil, add the julienned carrot and cover with the lid to continue simmering for less than 5 minutes.
Once the carrot is soft, add the egg noodle and vermicelli noodles. Mix gently. Make sure you season it with salt and black pepper.
Lastly, add the cabbages and mix them gently. Add the remaining liver that was kept on the plate.
Serve it on the plate with calamansi and you are done.
Variation
Pancit Canton– This pancit recipe is a Filipino egg noodle dish that is mixed with chicken, and vegetables and seasoned with soy sauce & oyster sauce.
Pancit Sotanghon Guisado– This Filipino pancit recipe is similar to canton, except we use a glass noodle or vermicelli noodle along with different vegetables, meats, and other condiments.
Pancit Bihon- This noodle recipe is similar to sotanghon guisado except the noodle is a bit thinner, and it turns white when it's cooked.
Tips and Hints
If the noodle is still a bit dry, add 1 more cup of water to help soften them.
You can use chicken stock if you don't have a bouillon cube
Do not cook the noodle longer since overcooking them will make them soggy
You can add other vegetables like snow peas, green beans, or broccoli
When putting the cabbage, make sure this will be the last step to prevent overcooking it.
Frequently Asked Questions
1. How long can I store the Pancit Bam-I in the fridge or freezer?
You can store this pancit recipe in an airtight container or plastic bag for up to 5-7 days in the fridge. But for a longer shelf-life, you can keep it in the freezer which can last for up to 30 days. However, the texture of the noodle will be different since it might become soggy due to excess water absorption.
2. What do you serve this Filipino pancit recipe with?
Traditionally, we like to serve and eat this delicious Bam-I recipe with white rice and other protein meat dishes like lechon manok, caldereta, fried chicken, or beef lumpia.
3. What other protein I can substitute with?
You can use shrimp, squid ball or sausages if you like.
Here are other delicious noodle recipes from Asian cuisines that you can cook at home:
📋 Recipe Card
Pancit Bam-I Recipe
Saif Al Deen Odeh
A Filipino pancit noodle originated in Cebu that is a combination of canton and sotanghon noodles. It is mixed with chicken breast & liver, vegetables and soy & oyster sauce.
Ingredients  
300

Grams

Chicken Breast, Chopped

250

Grams

Chicken Liver,

100

Grams

Tofu

1

Whole

Chicken Bouillon Cube

150

Grams

Egg Noodle

100

Grams

Vermicelli Noodle

8

Tablespoons

Soy Sauce

5

Tablespoons

Oyster Sauce

3

Cups

Water

w

½

Cup

Red onion, chopped

3

Cloves

Garlic, chopped

1

Whole

Carrot, julienned cut

½

Cup

Mushroom, chopped

½

half head

Medium cabbage

3

Tablespoons

Vegetable Oil

Salt & Black Pepper for Taste
Instructions 
Add vegetable oil in a large cooking pan

Once hot, add chopped garlic and red onion. Stir till it turns translucent..

Add cut chicken liver and tofu. Mix to stir for few minutes.

Once it is half cooked, add the chopped chicken breast. Stir and then let it cook for less than 5 minutes.

Pour the soy sauce and oyster sauce. Mix to combine

Remove some chicken liver and transfer into the plate. Set aside

Add mushroom & chicken bouillon cube, and pour water. Once it started to boil, add julienned carrot. Let it simmer for 5 minutes.

Add the egg noodles and vermicelli noodle. Mix to combine till it become soft. If the noodle is still dry, add 1 more cup of water when needed.

Add the shredded cabbage and the remaining chicken from the plate. Gently mix together. Season with salt and black pepper for taste when needed.

Serve on a plate with calamansi.
Notes
Add other vegetables like snow peas, green beans, or broccoli

The shredded cabbage should be put last to avoid overcooking it.

Use chicken stock instead of a chicken bouillon cube with water if you want to.

Soak the sotanghon or vermicelli noodles in a hot water to help cook the pancit faster.
Nutrition
Serving: 5gCalories: 404kcalCarbohydrates: 34.8gProtein: 32.6gFat: 14.7gSaturated Fat: 3gCholesterol: 329mgSodium: 950mgPotassium: 694mgFiber: 3.7gSugar: 4.8gCalcium: 109mgIron: 8mg
Source link