Mushroom Chicharon is a Filipino vegetarian snack recipe in which the mushroom is thinly sliced, seasoned, and deep-fried to achieve a crispy, crunchy texture. It is considered a healthier alternative to pork or chicken chicharon since it is purely vegetarian.

Jump to:
Chicharon is a popular Filipino snack among locals, and you can find it from supermarkets to street food vendors. This version is different than the Spanish variation "Chicharron" which refers to fried pork rinds. The vendors usually served it as chips, which is easy and convenient to eat if you are traveling on a long trip.
The chicharon can be eaten either alone or you can dipped in spiced vinegar with soy sauce or other condiments like bagoong anchovies. In addition to that, it is also used as a crunchy topping for various dishes like pancit palabok.
As a half-Filipino, I love chicharon, but I find it fatty since it is purely made of deep-fried skin. So I decided to make something that is healthier and vegan-friendly, which is a mushroom chicharon. It tasted exactly like chicken skin chicharon since I seasoned it with different spices giving it a flavorful and savory taste.
Recipe Ingredients
Here are the ingredients you need to make this delicious Mushroom Chicharon:
Mushroom: I am using an oyster mushroom which is a popular type of mushroom used in chicharon cooking. It is a pale to light brown in color with a mild flavor. Before mixing with the flour and other seasoning, make sure you remove the stem first.
Seasoning: To season the mushroom, I am using onion, garlic, and paprika powder to give a savory flavor. Of course, salt and black pepper is important for seasoning.
Flour- I am using all-purpose flour or white flour to coat the mushroom slices before frying. This helps create a crispy outer layer when deep-fried.
Cornstarch- I use cornstarch when combined with all-purpose flour to enhance the crispiness when fried.
Vegetable Oil- I am using canola oil to fry the chicharon.
Step by Step Instruction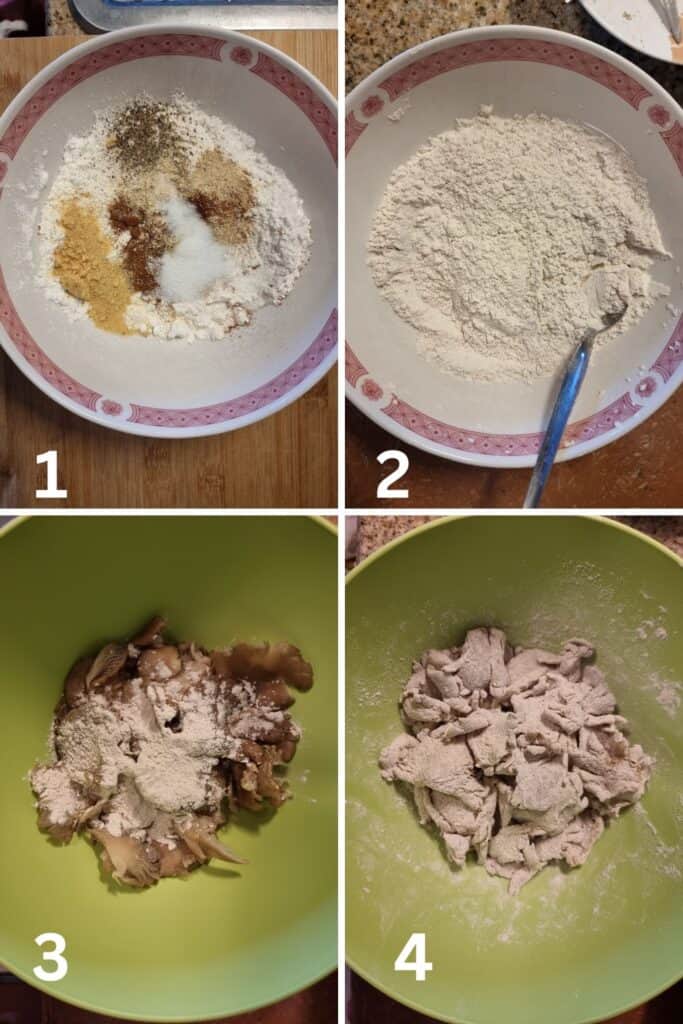 Step 1 and 2- I combine the flour, cornstarch, salt, black pepper, and all the seasoning in a plate bowl.
Step 3 and 4- After that, I transferred the seasoned flour mixture into the mushroom which I then gently coated together. Set it aside.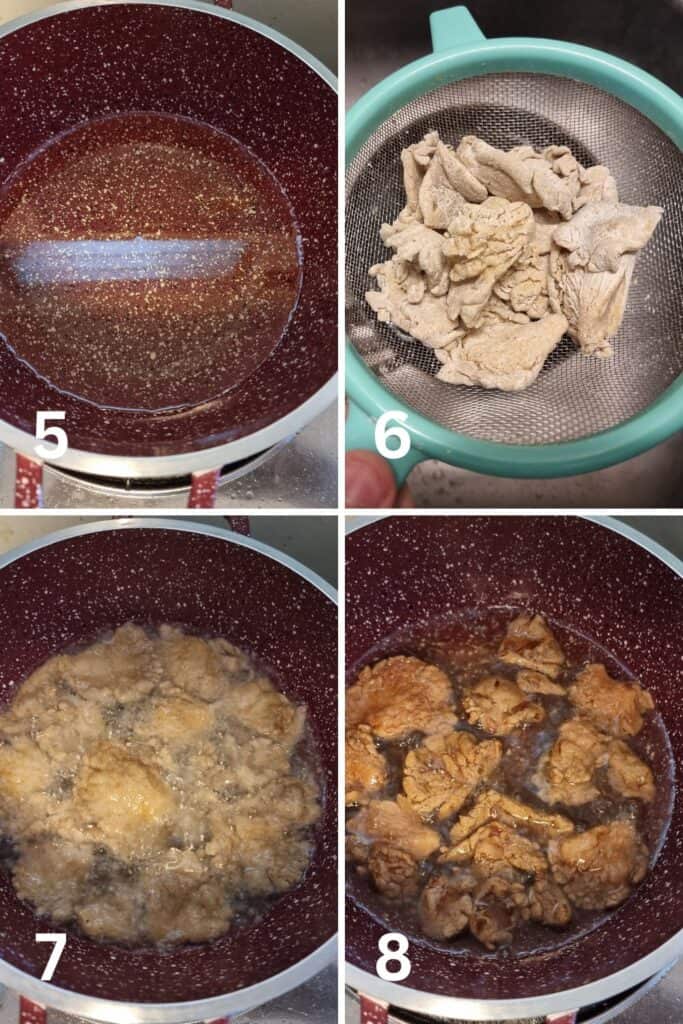 Step 5- I poured enough oil to prepare for deep frying in a frying pot. Make sure the oil is hot enough before adding the mushroom.
Step 6- Also, before you place the mushroom into the oil, remove the excess cornstarch-flour mixture.
Step 7 and 8- After that, I fry the mushroom in batches and wait for 3-4 minutes or until it turns golden brown and crispy. Do not overcook the mushroom to prevent having a bitter or burned flavor.
Final Serving- Transfer to the plate with a paper towel below to remove the excess oil. Serve it with spiced vinegar dip and white rice. Enjoy! 
Tips and Hints
Do not over-fry the mushroom since it has a burned or bitter flavor. Once it turns golden brown, remove it right away.
Before coating the mushroom with cornstarch flour mixture, make sure you pat the mushroom caps dry with a paper towel. Having excess moisture will affect the coating and frying process.
Do not overcrowd the mushrooms when frying since they will not be cooked unevenly. It is best to cook it in batches to achieve a crispy texture.
Once done frying, place it above the paper towel to remove the excess oil. This will keep the mushroom chicharon crispy and less greasy.
If you have leftover chicharon, you can reheat it through an air-fryer or oven in a low setting to maintain the crispiness of the mushroom.
Other Filipino Snacks Recipe
Here are my recommended Filipino snack recipes that you can cook at home:
📋 Recipe Card
Mushroom Chicharon Recipe
Saif Al Deen Odeh
Mushroom Chicharon is a Filipino vegetarian snack recipe made by thinly slicing, seasoning, and deep-frying mushrooms for a crispy texture.
Equipment
1 Sieve or Strainer

1 Frying Pot
Ingredients  
300

grams

of oyster mushroom

1

cup

of all purpose flour

¾

cup

of corn starch

1

tablespoon

of onion powder

2

teaspoon

of garlic powder

2

teaspoon

of paprika powder

1

teaspoon

of salt

½

teaspoon

of black pepper

Vegetable canola oil for frying
Instructions 
Combine the flour, cornstarch, salt, black pepper, and all the seasonings in a large plate bowl.

Place the mushroom into the seasoned flour mixture and gently coat them together. Set them aside.

Pour enough oil into a frying pot to prepare for deep frying. Ensure the oil is hot enough before adding the mushrooms.

Before placing the mushrooms into the oil, make sure to remove any excess cornstarch-flour mixture using the sieve or strainer.

Fry the mushrooms in batches for 3-4 minutes or until they turn golden brown and crispy.

Transfer the cooked mushrooms to a plate lined with a paper towel to remove excess oil. Serve with a spiced vinegar dip and steamed white rice. Enjoy!
Notes
Avoid overcooking the mushroom to prevent having a bitter or burned flavor.

Make sure the mushroom caps are dry before coating since excess moisture can impact coating and frying. Use a paper towel to pat them dry.

 

 
Nutrition
Calories: 475kcalCarbohydrates: 90gProtein: 7.5gFat: 6.1gSaturated Fat: 0.5gPolyunsaturated Fat: 2.8gMonounsaturated Fat: 1.6gSodium: 891mgPotassium: 130mgFiber: 4.1gSugar: 1.1gVitamin A: 40IUVitamin C: 2mg
Source link