The term Internet of Things or IoT has set new benchmarks for global connectivity alongside setting the foundations for new innovative technologies. As of 2022, the total number of IoT-connected devices was 16.4 billion. If you are seeking
important skill for IoT
career roles, you must have figured out the potential of IoT. Internet of Things is growing at a radical pace, with total IoT expenses amounting to almost $201 billion in 2022. 
According to IoT Analytics, the spending on global IoT market will grow by 18% in 2023. The answers to "Is IoT good for your career?" also invite attention to the market capitalization of global IoT market. According to the International Data Corporation, the global IoT market could be worth $1.1 trillion in 2023. Will you miss the opportunity to build your career in the consistently expanding IoT market?
The skill gap in the domain of IoT is one of the foremost advantages for aspiring IoT professionals. You can learn about important IoT developer skills which can guarantee your claim for lucrative jobs in IoT. The following post helps you identify some important technical skills for IoT professionals you would need to boost your career. 
Want to familiarize yourself with the technology stack associated with IoT? Enroll Now in Internet Of Things (IoT) – Intermediate Level Course!
Most Popular Skills for IoT Professionals
The predictions for the IoT market indicate positive trends for career development. Statista has predicted that the total number of connected devices will become 75 billion by 2025. Therefore, the attention to skills needed for IoT professionals has increased by huge margins, with many sectors adopting IoT solutions. 
New IoT projects and transformation of legacy systems require developers, architects, engineers and other IoT professionals to support the projects. Therefore, IoT professionals need a diverse set of skills that can help them maintain IoT infrastructure according to the desired scale. Here are the essential skills required for building your career in IoT.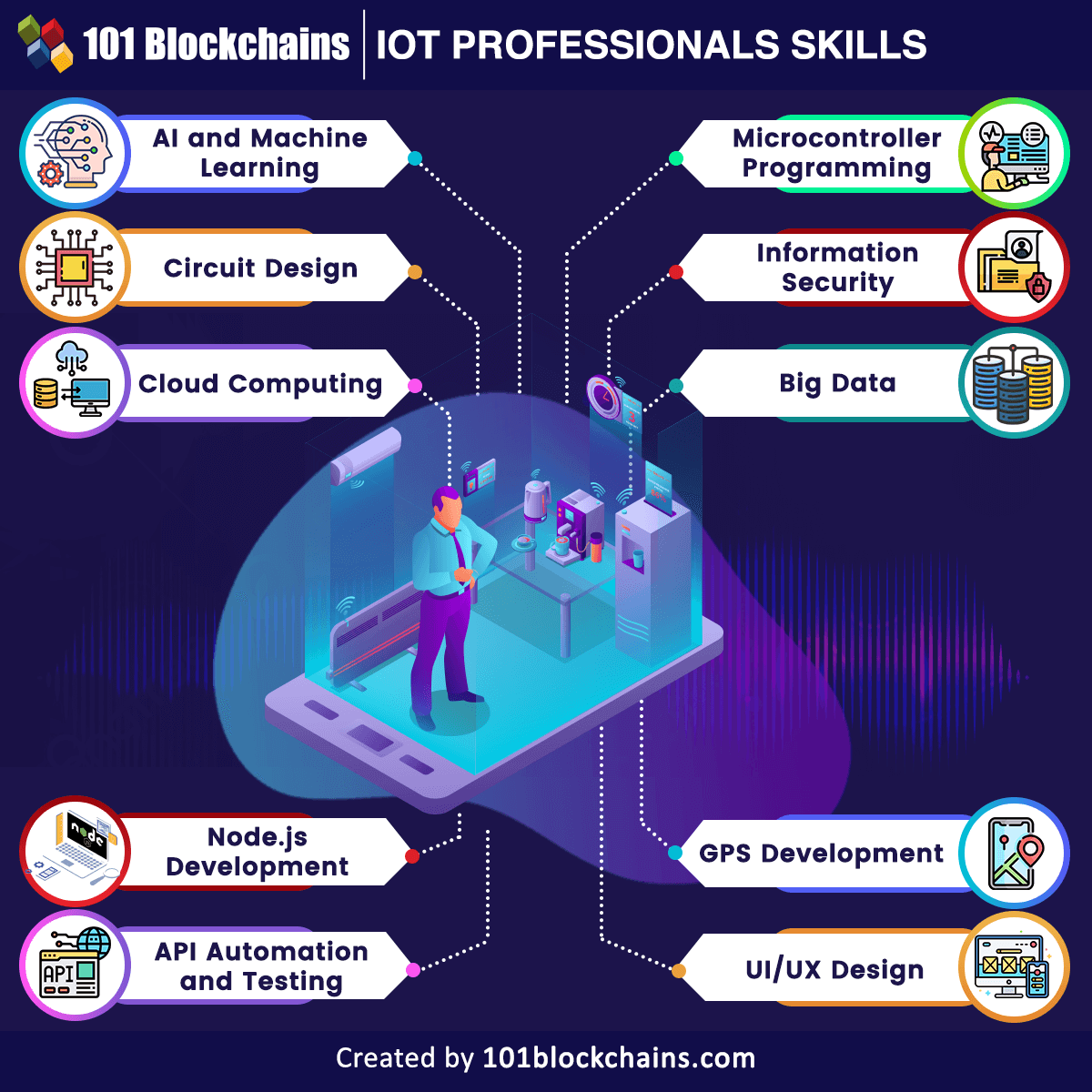 Artificial Intelligence, or AI, is gradually becoming an integral component of IoT networks. As a matter of fact, the convergence of AI and IoT has resulted in the development of artificial intelligence of things or AIoT. According to Gartner, AI will be a crucial part of around 80% of large-scale IoT projects by 2022. 
AI and ML are mandatory IoT architect skills for creation of powerful and modern IoT infrastructures. IoT devices collect massive volumes of sensor data, which is used for analysis. AI and machine learning can offer a boost to the process of organizing IoT sensor data and deriving relevant insights from the data for business decisions. 
For example, the IoT developer skills required for a manufacturing plant monitoring system would include AI and machine learning. The two technologies can help in effective monitoring of temperature at different sites of the manufacturing plant alongside offering insights for optimization of the facility. AI could also improve usability of data by removing redundant data from Big Data repositories. In addition, AI can also help in performing complex data analysis processes by leveraging data science.
The list of technical skills required for IoT professionals also turns the limelight toward circuit design, which has been experiencing significantly higher demand. In most cases, IoT devices need frequent modification of chip design alongside changes in circuit development to meet new system requirements. 
The skills for IoT developers in circuit design can help in ensuring development of optimal IoT networks. For example, IoT developers and architects could use their specialization in circuit design to create applications that use long-life batteries. 
The design of such IoT applications would involve selection of specific circuit boards which can boost power intake. On the other hand, developers could go for one circuit board featuring different sensors and chips. The growing demand for printed circuit boards and 3D designs implies that circuit design could be a prominent IoT skill for boosting your career.
Another important addition to skills required for IoT professionals is distributed cloud computing. The important skill for IoT can help in improving efficiency of IoT networks by ensuring an effective alternative to sole edge computing. Distributed cloud computing offers the blend of edge computing and a centralized cloud database for processing some data through a central approach and some through edge computing. 
The applications of distributed cloud computing can help in processing time-critical data at the edge. On the other hand, data that requires intensive processing can be transferred to a centralized location far away from the source. Skills in distributed cloud computing could help IoT professionals in creating a powerful functional engine for their IoT solutions.
The outline of basic skills required for IoT professionals also includes Node.js development. It is one of the essential IoT developer skills for beginners seeking entry into the IoT landscape. Node.js is the most preferred open-source development environment for IoT developers. It is generally used in combination with other connected devices, such as Raspberry Pi and Arduino. 
Raspberry Pi is a miniature, single-board computer that serves as an efficient software development tool at a low cost. It is compatible with programming languages such as Node.js and Python. On the other hand, Arduino is the single-board microcontroller used commonly for flexible embedded programming through sensor interfaces and interfaces for other inputs. Your search for IoT architect skills can help you understand how Arduino and Raspberry Pi offer effective teaching tools for learning about the use of Node.js in IoT.
Node.js can facilitate communication between Raspberry Pi and Arduino. It also supports compatibility with distributed IoT environments and requirements for faster processing of real-time data. In addition, the asynchronous nature of Node.js and its event-driven I/O model ensures flexibility for managing multiple tasks simultaneously.
API Automation and Testing
The most popular skills needed for IoT professionals include API automation and testing, as they empower different functionalities in IoT. APIs could help IoT devices in efficient and accurate exchange of real-time data. As a matter of fact, APIs are the primary instrument that facilitates communication between IoT devices. IoT professionals should develop their fluency in API testing to cater to the complex and distributed nature of IoT with automated tests. 
Testing is an important mention among IoT developer skills required for creating applications where sensors offer a proper representation of data collected about a physical condition. Another instance of proving the necessity of API testing reflects on use cases for updating data structure of IoT monitoring systems. Effective skills in API automation and testing can help you identify whether changes in organization of data in the system could change the flow of data processing. 
Microcontroller Programming 
The collection of mandatory IoT skills required for aspiring developers and architects would also point to microcontroller programming. You can use microcontroller programming skills for IoT developer roles in improving intelligence of IoT networks. Microcontrollers are tiny computers that help in optimizing the functionality of IoT systems in different gadgets. 
The applications of microcontrollers in robots, motor vehicles, home appliances, medical devices and vending machines emphasize the need for microcontroller programming in IoT. It can help in strengthening fluency in sensor development alongside management of automation projects. 
Information security is a prominent concern in the IoT market, thereby invoking demand for information security professionals. The security for IoT infrastructure is difficult owing to the different devices and implementations included in IoT. 
Security engineers in the domain of IoT should practice creativity and adaptability in their approach to reviewing vulnerabilities. Information security qualifies as the most important skill for IoT as it helps in identification of physical and logical flaws across IoT endpoints. In addition, the demand for IoT professionals with fluency in security tools by specific vendors is increasing. Some examples of IoT information security vendors include Orbit and Cloudflare. 
As a professional IoT architect or developer, you must familiarize yourself with the weaknesses in IoT security infrastructure. One of the most prominent setbacks for IoT security points to password security. In most cases, administrators undermine the necessity of changing the default passwords, partly due to limitations on usability. Lack of frequent changes in IoT passwords can help intruders break into IoT systems by breaking down the generic passwords. 
The job responsibilities of an IoT developer or architect would also involve designing effective systems for managing Big Data. You can find answers to "Is IoT good for your career?" in the examples of skill requirements, such as Big Data. IoT devices are capable of generating humongous volumes of data in real time, which create challenges for data management. 
Big Data skills can help in managing the huge stores of IoT data alongside analyzing and monitoring them. The combination of Big Data with AI and machine learning can provide momentous growth for better speed and efficiency of IoT network performance. Therefore, IoT professionals with Big Data skills are more likely to attract the attention of employers for lucrative job roles.
GPS, or Global Positioning System, has been through a massive makeover in recent times with the introduction of smart vehicles. At the same time, other sectors, such as supply chain management and healthcare, have been utilizing GPS for logistics and wearables. 
The IoT developer skills required for creating location-aware IoT devices emphasize the necessity of learning GPS development. IoT applications can use GPS for different use cases, including navigation, employee monitoring and security. The continuously growing adoption of GPS-enabled devices has played a crucial role in driving the demand for IoT engineers with GPS development fluency.
The entries among important IoT architect skills would also highlight the importance of UI/UX design. User interface and user experience are the mandatory aspects for encouraging adoption of IoT solutions. Interestingly, UI/UX design skills can complement IoT network security. How? A user-friendly IoT device interface can help information security professionals with flexible updates in security settings. 
Seamless user experience is also an essential requirement for helping users understand how the IoT solution delivers value. Effective user experience and a responsive user interface ensure a secure and uninterrupted data flow from sensors to IoT applications and then to the users. On top of it, IoT UX designers have to work in collaboration with embedded system programmers. Therefore, you would need a broad and diverse set of IoT skills to complement your fluency in UI/UX design.
Conclusion 
The review of every important skill in IoT shows how aspiring professionals have to invest efforts in building a comprehensive range of skills. You cannot rely on one specific skill, such as AI and machine learning or Node.js development, for your IoT career. 
The technical skills needed for IoT jobs also include fluency in concepts of distributed cloud computing, UI/UX design, microcontroller programming and GPS development. Begin your journey in IoT with a comprehensive training course on IoT fundamentals and the implementation of IoT in business use cases. Learn more about IoT with the trusted learning resources on 101 Blockchains right now.

Source link