Ginisang Togue with Tofu is a Filipino vegetable dish that contains stir-fried carrots, firm tofu, and mung-bean sprout and is seasoned with soy sauce & oyster sauce. It is a popular healthy dish that is served as a side dish in Filipino cuisine.

Jump to:
Bean sprouts are a popular ingredient used in most Southeast Asian cuisines. They are delicious and highly nutritious and are rich in vitamins & nutrients. I love bean sprouts because it is easy to make and it is a healthy dish. Furthermore, tofu is also a popular Asian ingredient that is rich in protein.  
There are many healthy and vegetable dishes found in Filipino cooking. One of my favorite Filipino vegetables is a mung-bean dish called Ginisang Togue. This can be served as a side dish or main dish which is traditionally eaten and served with white rice.
What is this recipe about?
Ginisang Togue is a Filipino vegetable stir-fry bean sprout dish that is mixed with green onion, carrots, and different condiments like soy sauce and oyster sauce. It is traditionally served as a side dish together with fried chicken or fried fish and white rice. In addition, the ingredients of this recipe can be used to make a spring roll wrapper which is a variation of vegetable lumpia.  
The word "Ginisang" is a Filipino word meaning "Stir-fry", while Togue means "bean sprout". In some variations, we like to add tokwa which in English it's called "tofu." Tofu is rich in protein which is a perfect alternative to meat making it perfect for vegan or vegetarian eaters.      
Because is a very simple and straightforward recipe, I am going to show you my version of Ginisang Togue with tofu.
Recipe Ingredients
Here are the ingredients I used to make a Ginisang Togue with Tofu recipe:
Bean Sprouts:  These are young sprouts from Mung beans which are rich in minerals, vitamins, and fiber.
Carrots: This will serve as one of the vegetables since it adds color, sweetness, and crunchy texture to my dish.
Tofu: Also known as "Tokwa" in Filipino, is rich in protein I am using dried firm tofu.
Condiments: I am using soy sauce and oyster sauce since they both add saltiness and umami flavor.
Other ingredients: The rest you will need onion & garlic for adding aromatic flavor and vegetable canola oil for sauteing & frying the tofu.
Step by Step Instructions
Here are the steps on how to cook Ginisang Togue with Tofu: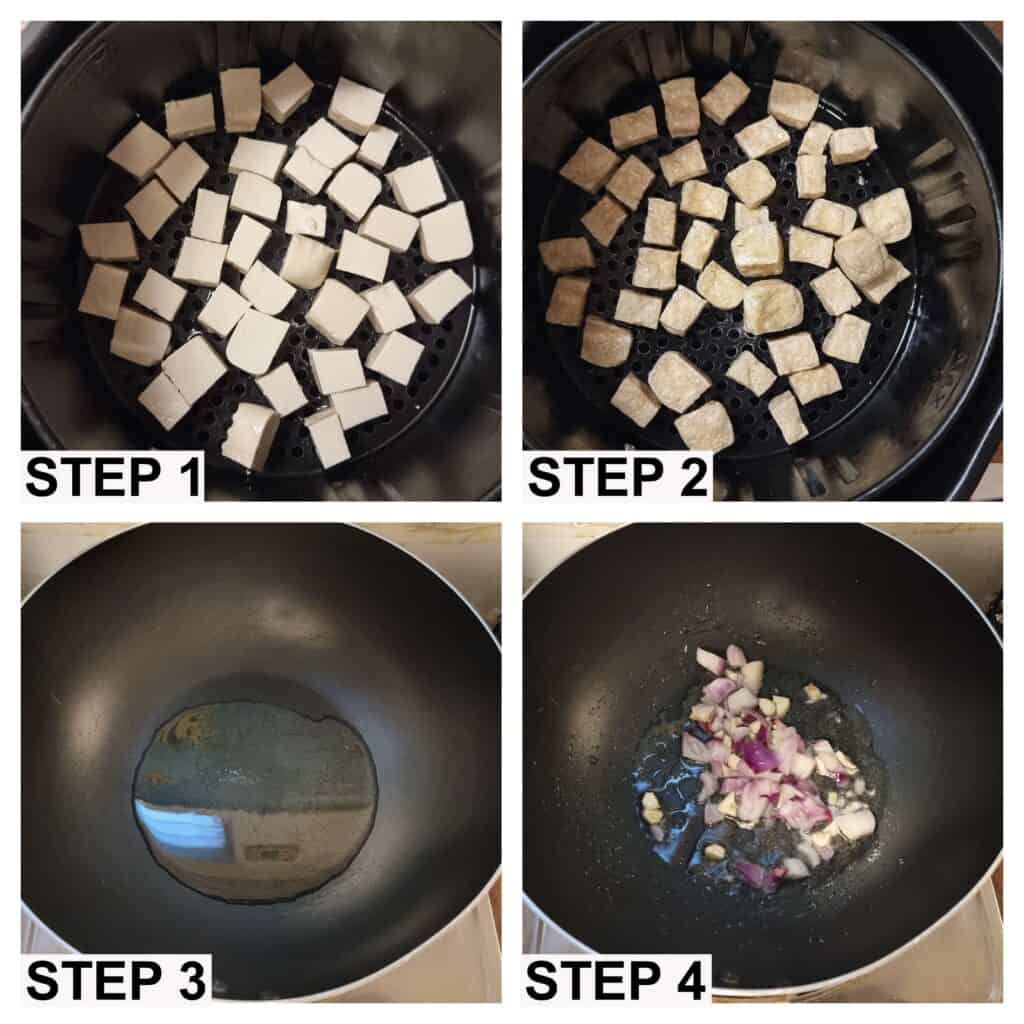 Firstly, I place the cut tofu into the air fryer, which I brush it with oil before turning on the air fryer.
Cook the tofu using the air-fryer for 15 minutes at 200 C till it turns golden brown.  Set it aside.
Next, in a separate pan, I saute the onion & garlic, which I added the sliced carrot, followed by bean sprouts and then the green onion. Stir gently to combine
After that, I season it with soy sauce and oyster sauce, which I give a quick stir before adding the fried tofu.
Once it's done, you can serve this with rice along with other Filipino main dishes. Enjoy! 
Serving Suggestions and Pairing
Traditionally, you don't eat Ginisang Togue alone but rather it serves as a side dish for rice and other meat protein dishes. Here are some ideas for serving suggestions and pairings for this dish:
Bangus Steak
Beef Giniling
Chicken Liver Adobo
Chicken Adobo with Potatoes
Tips and Hints
Use a large skillet or wok for stir-frying
Do not overcook the bean sprout since it will lose its crisp texture.
Frying the tofu using an air-fryer is much healthier than frying in deep oil since it uses less oil.
This recipe can be used as a filling for wraps or spring rolls.
You can add other vegetables like bell pepper or green beans to add colorful presentation
To make this a vegetarian or vegan dish, substitute oyster sauce with sweet soy sauce.
Other Filipino Vegetable Recipes    
Here are my other delicious Filipino vegetable recipes you can cook at home:
Ginisang Monggo
Filipino Vegetable
Tofu Sisig
Ginitaang Kalabasa with Malunggay
Frequently Asked Questions
1. Is this Ginisang Togue with tofu recipe a vegetarian?
No, because it contains oyster sauce. If you want to make it vegetarian-friendly, you can replace this sauce with something else.
2. Can I use other types of sprouts instead of mung bean sprouts?
Traditionally, we use bean sprouts but soybean sprouts or alfalfa sprouts work well in this recipe.
3. What type of tofu do I use in this recipe?
I recommend you use firm or extra firm tofu since they hold their shape better during cooking.
4. Can I add meat and seafood to this recipe?
You can use boneless chicken breast, shrimp, or pork if you like.
5. How long can Ginisang togue with tofu last in the fridge?
It can last for up to 5 days. 
📋 Recipe Card
Ginisang Togue with Tofu
Ginisang Togue with Tofu is a nutritious Filipino vegetable dish featuring stir-fried carrots, firm tofu, and mung bean sprouts seasoned with soy sauce and oyster sauce, commonly served as a side dish in Filipino cuisine.
Ingredients  
3

cups

of bean sprouts

1

medium sized carrot

sliced thinly into diagonal

1

block of tofu

extra-firm

1

small red onion

chopped

2

cloves

garlic

chopped

1

tablespoon

of soy sauce

1

tablespoon

of oyster sauce

2

tablespoons

of vegetable oil
Instructions 
Cut the tofu into smaller cubed shapes

Place into the air fryer and brush it with oil

Cook it for 10-15 minutes at 200 C / 400 F or until it turns golden brown. Set it aside.

Add vegetable oil to the pan. Once hot, add chopped red onion and garlic. Stir till it turns translucent

Add sliced carrot and stir for a few minutes. After that, add bean sprouts and sliced green onion. Stir gently to combine.

Pour soy sauce and oyster sauce and give a quick stir before adding the fried tofu. Mix to combine for one more time.

Serve it with white rice and any meat dishes. Enjoy!
Nutrition
Calories: 225kcalCarbohydrates: 15.9gProtein: 17.4gFat: 12.2gSaturated Fat: 2.3gSodium: 436mgPotassium: 578mgFiber: 1.4gSugar: 4.9gCalcium: 85mgIron: 3mg
Source link