Beef Giniling is a traditional Filipino ground beef dish that is cooked with onions & garlic and combined with frozen mixed vegetables, and raisins for a touch of sweetness. It is seasoned with soy sauce, oyster sauce, and tomato paste for adding redness to the dish, which is best eaten with rice.
Jump to:
Giniling, a dish introduced to the Philippines during the Spanish colonial period, has become a beloved staple in Filipino cuisine. Influenced by Spanish culture, this ground beef dish, known as 'Picadillo' in Latin America, is served in the form of empanadas, with rice, or wrapped in tortillas.
In the Philippines, we called this variation a 'Giniling,' which is one of my favorite ground beef dishes due to its delicious flavor and incorporation of vegetables. While beef is traditionally used, variations with pork or chicken can be found in different restaurants and home-cooked meals.
Also, it is a budget-friendly dish since it is easy and quick which makes it a popular choice for your families and friends. In this post, I have made my version of beef giniling which is simple to make but I promise you it is delicious.
Recipe Ingredients
Here are the ingredients to make this delicious Filipino Beef Giniling:
Ground beef: This is the main ingredient for this dish which well serves my protein.
Onion & Garlic: These two herbs will add aroma and flavor to the ground beef dish
Frozen Mixed Vegetables: I am using frozen mixed vegetables which includes carrots, green peas and corn, that are already chopped and sold directly in grocery stores. They are healthy since its vegetables and they add vibrant color to my dish.
Condiments: Soy sauce and oyster sauce are the two important condiments that will add savory flavor to the dish.
Raisins: The raisin is another important ingredient that will add sweetness to my giniling baka.
Tomato Paste: I use tomato paste since it will contribute redder color to my dish.
Other Ingredients: For the rest you will need vegetable oil to sauté the onion, garlic & ground beef, salt, and black pepper.
Step by Step Instruction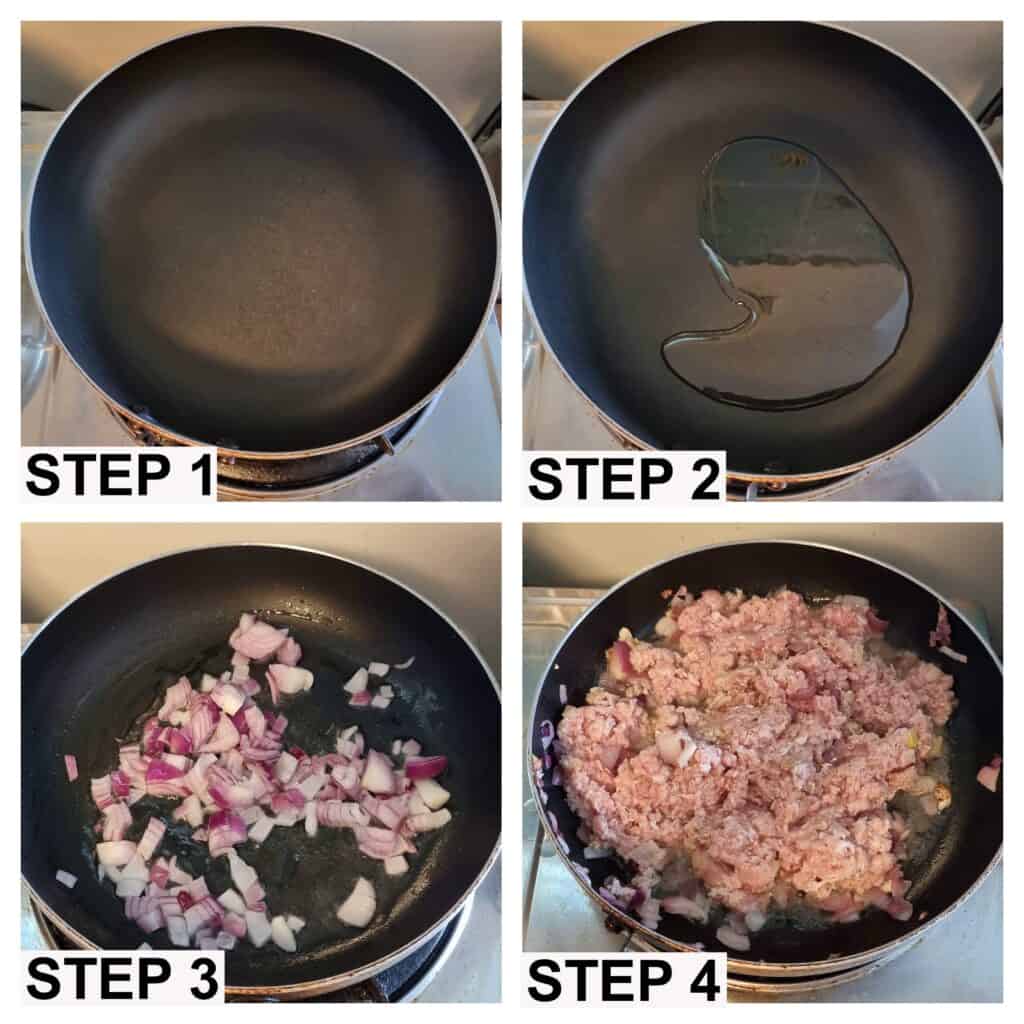 Firstly, I add vegetables to the cooking pan and then I saute the red onion and garlic. Stir till it turns translucent.
After that, I add the ground beef and then stirred it to combine. Make sure the juice is almost evaporated before adding the other ingredients.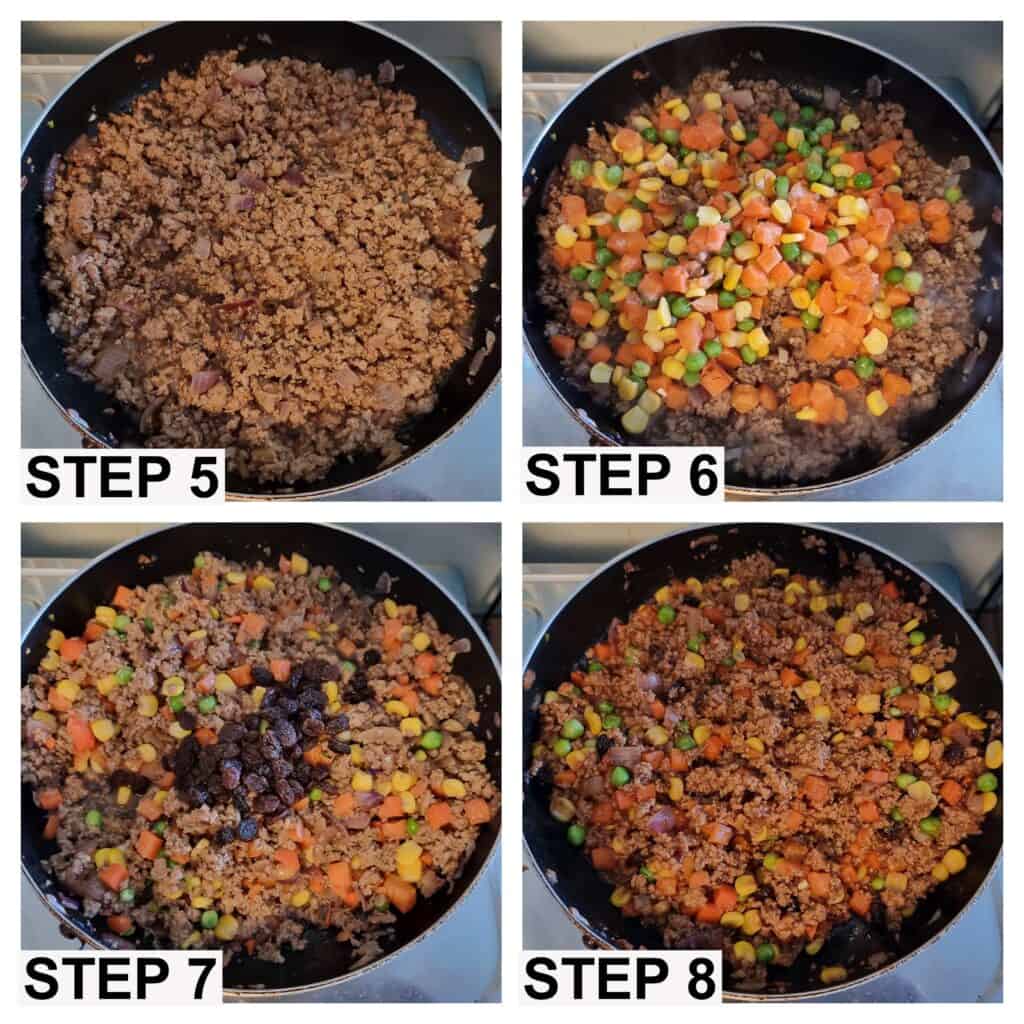 Next, I added the tomato paste to redden my ground beef.
After that, I add the frozen mixed vegetables, followed by raisins which I gently stir to mix.
Lastly, you can add salt and black pepper for taste if needed.
Serve this delicious beef giniling with white steamed rice. Enjoy!
Variation
Chicken Giniling: This variation involve using ground chicken along with mixed vegetables, raisin and other seasoning sauces.
Arroz Ala Cubana: The ingredient is similar to ground beef giniling, except it is served together with plantain, sunny-side up egg and white steamed rice.
Picadillo: This ground beef version is contain frozen mixed vegetables, chopped potatoes, tomato paste and other spices.
Tips and Hints
Use lean ground beef or ground sirloin for a healthier version since it contains lesser fats
When cooking the ground beef, make sure to break it up into smaller pieces using a spatula since browning the meat enhances the flavor and texture of this dish.
The saltiness of the soy sauce adds balance to the sweetness of the raisins.
You can add other vegetables like potatoes, green beans, or bell pepper for this giniling na baka.
With this recipe's ingredients, you can use it as a filling for tortillas or empanadas. In addition, you can serve it with noodles instead of plain steamed rice.
Frequently Asked Questions
1. Can I use other type of meat instead of beef?
Yes. You can use ground pork, chicken or turkey. They are all unique and taste delicious.
2. Can I freeze my beef giniling?
You can store in the refrigerator using airtight containers or freezer bags, which will last for up to 5 days. But, if you want to store it longer, you can place it in the freezer, which will last for up to 3 months.
3. Can I make this giniling spicy?
Yes, of course. You can red chili powder or add chilies in this dish.
4. What do you serve this giniling with?
Traditionally, it is eaten and served with white steamed rice. Also, if you are serving this dish as an Aroz Ala Cubana, you can combine with plantain and sunny-side up egg.
5. Can I make this into vegan friendly?
If you want vegan dish, you can substitute ground meat with plant-based alternatives such as textured vegetable protein (TVP), crumbled tofu, or lentils.
Other Filipino Beef Recipes
Here are other Filipino beef recipes that you can make at home:
???? Recipe Card
Beef Giniling
Saif Al Deen Odeh
Beef Giniling is a Filipino dish made with ground beef, onions, garlic, mixed vegetables, raisins, and a combination of sauces which is best enjoyed with rice.
Ingredients  
500

grams

ground beef

1.5

cups

frozen mixed vegetables

3

tablespoons

soy sauce

2

tablespoons

oyster sauce

2

tablespoons

vegetable canola oil

½

cup

raisins

2

tablespoons

tomato paste

3

cloves

garlic, chopped

1

medium

red onion, chopped

salt and black pepper for taste
Instructions 
Add vegetable oil in the cooking pan.

Once hot, add chopped red onion. Once it turns translucent, add chopped garlic. Stir for less than a minute.

Add the ground beef and stir for few minutes. Let it cooked till the juice is fully evaporated.

Pour soy sauce & oyster sauce, and add the tomato paste. Mix to combine.

Add the frozen mixed vegetables and raisin. Stir to mix

Add salt and black pepper if needed.

Serve with white steamed rice.
Notes
Use lean ground beef for a healthier version since it contains lesser fats.
You can add other vegetables like potatoes, green beans, or bell pepper.
This dish goes well with sunny side up egg, plantain and white steamed rice.
Nutrition
Serving: 4gCalories: 419kcalCarbohydrates: 29.2gProtein: 42gFat: 14.9gSaturated Fat: 4.3gCholesterol: 112mgSodium: 738mgFiber: 4.8gSugar: 15.2gCalcium: 44mg
Source link