Chicken siomai is a Filipino dumpling recipe filled with ground chicken, shredded carrots, onion, soy sauce & other seasoning, that is wrapped in a thin flour-based wrapper. It is commonly steamed and served with a soy-based dipping sauce & calamansi, which is best served with fried rice.
Jump to:
Siomai is one of the most popular staple foods in the Philippines, where you can find it from street food stalls to high-end restaurants. It is one of the most favored foods among students and working-class adults since it is affordable and convenient to eat. In addition, this food can also be eaten as a snack when taking a break from work or school classes before having their main dinner.
The first time I came to the Philippines, that was one of the first few foods I tried which is delicious. There are different variations of siomai in the food stalls, where they sell pork, beef, shrimp, or shark's fin siomai. And no, it is not made from a shark, but rather the shape of this dumpling is made in the form of a shark.
If you followed my food blog, you will know that I made a beef siomai in my previous post. This time, I made a delicious chicken siomai which is simple to make.
Recipe Ingredients
Here are the ingredients that you will need to make this delicious chicken siomai recipe:
Ground Chicken: I am using boneless chicken breast which I use the food processor to make into a ground chicken.
Carrot: I shred the skin of the carrot before I grated it into smaller pieces which will add flavor and a bit of sweetness to the siomai.
Soy Sauce & Oyster Sauce: These two are important Filipino condiments to which I add a salt, savory, and umami flavor to my ground chicken mixture.
Cornstarch and egg: I am using both of them since they serve as a binding agent. Use only the egg yolk since including the egg white will make your ground-chicken mixture watery.
Herbs: I am using grated garlic, spring onion leaves, and red onion since they add aromatic flavor to the chicken filling.
Wonton Wrapper: This is the most ingredient you need to make a siomai. A wonton wrapper is a square shape wrapper made of dough which you can find in any Asian grocery store. It is better to buy a ready-made wrapper rather than making your own since it is more convenient.
Difference between Filipino siomai and Chinese shu mai?
Filipino siomai is influenced by Chinese culture since centuries ago, the Chinese settler introduced this food to the locals which then they customized into a Filipino version of siomai.
What makes the Chinese shu mai different than the Filipino version is that they sometimes mixed ground chicken with prawns or shrimp, and they add shitake mushroom, bamboo shoots, or water chestnut. In addition to that, they also add different seasonings like mirin or Shao Xing Wine.
Our Filipino siomai only uses oyster & soy sauce, and sometimes sesame oil, and we also mushrooms or carrots as an addon filling.
Step by Step Instruction
I. Making the Chicken Fillings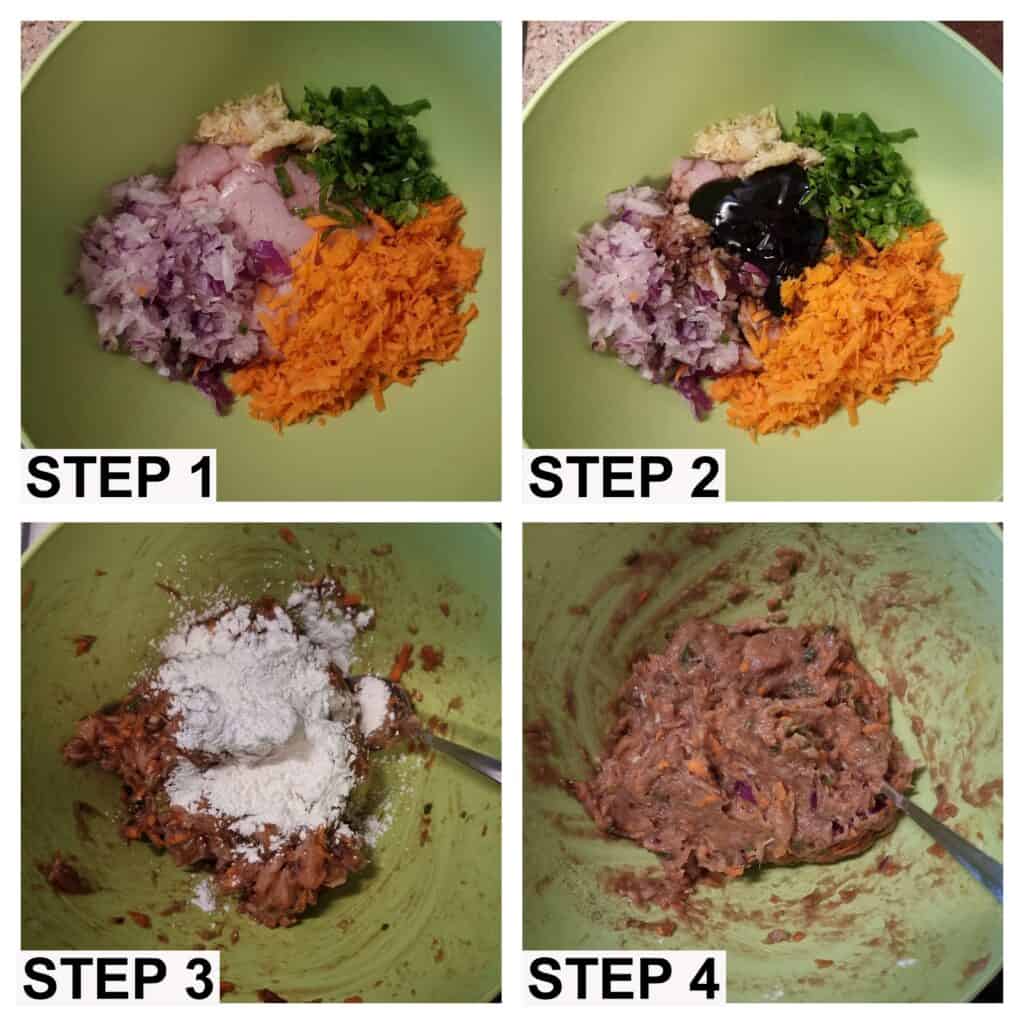 Firstly, I combine the ground chicken, grated carrot, onion, garlic, seasoning sauces, and egg yolk in a large bowl. Mix gently using your hand or spoon.
After that, I added the cornstarch and then I stir to mix again. Set it aside.
II. Assembling the Siomai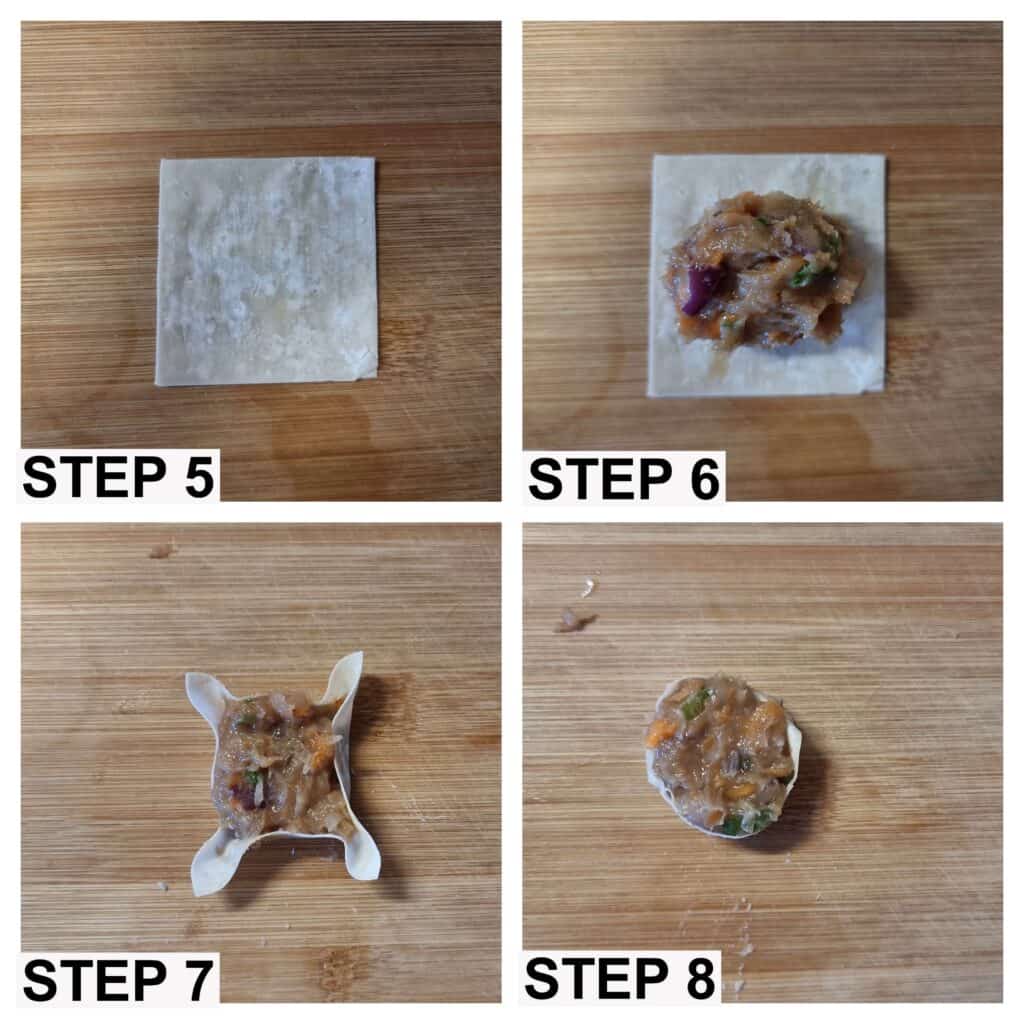 I place 1 tablespoon of chicken filling into the center of the wrapper and then fold it on all sides until it is fully enclosed.
Repeat the remaining wonton wrappers and set it aside.
III. Steaming the Siomai
Before placing the siomai, I added the parchment paper on the steamer to help prevent sticking on it.
Place the steamer above the parchment paper. Let the chicken siomai steam for 12 minutes.
Lastly, I transfer it into the plate and served it with soy sauce mixture dipping sauce, and calamansi. This is best to eat with beef chao fan fried rice or any white steamed rice as desired. Enjoy!
Tips and Hints
Use boneless chicken thigh if you want your ground chicken to be moist
To enhance the flavor of your chicken siomai, you can add shrimp or mushrooms.
Do not overstuff the filling since it can make the wrapping difficult and may cause the siomai to burst during steaming.
If you want to make sure the chicken siomai is cooked, steam for up to 15 minutes. Do not steam more than that or else the filling will look small.
When steaming the siomai, make sure the water in the steamer is already boiling before adding the siomai.
You can use a bamboo steamer, metal steamer, or even a regular pot with a steaming rack found on rice cookers.
Freezing and Reheating Suggestion
To store the chicken siomai, you can keep it in the fridge which can last for up to 5 days using a air-tight plastic container. Or if you want it to last longer for up to 3 months, place it in the freezer.
Also, there are two simple ways to reheat the siomai: steaming and microwave.
For steaming, you can place the siomai in a steamer basket and set it over a pot of boiling water. Let it steam for less than 5 minutes or until heated through. This technique can help retain the moisture of the siomai.
On the other hand, another method to reheat is using a microwave, in which you can place the siomai on the plate and heat it in a high setting for 1 minute or until it is heated thoroughly.
Other Filipino Snacks Recipes
Since a siomai is a considered side or snacks rather than a main dish, here are a few other delicious Filipino side dishes that you can cook at home:
???? Recipe Card
Chicken Siomai Recipe
Saif Al Deen Odeh
Chicken siomai is a savory and flavorful steamed dumpling filled with minced chicken, herbs, and spices, commonly enjoyed as a popular Filipino dim sum dish.
Ingredients  
1

medium

Carrot

grate

½

cup

red onion

minced

½

cup

spring onion leaves

chopped

2

tablespoon

soy sauce

2

tablespoon

oyster sauce

1 ½

teaspoon

grated garlic

3

tablespoons

of cornstarch

1

piece

egg yolk

25

pieces

wonton wrapper
Instructions 
Making the Chicken Fillings
Combine the ground chicken, grated carrot, soy sauce, oyster sauce, egg yolk, and garlic in a large bowl. Mix to combine

Add the cornstarch to help bind the chicken filling. Mix again.
Assembling the Siomai
In each molo or wonton wrapper, place 1 tablespoon in the center.

Fold it on each side until it is fully enclosed. Repeat the rest of the wonton wrappers. Set it aside.
Steaming the siomai
Pour little water on the steamer to prepare steaming the siomai.

When using the food steamer, add parchment paper before placing the siomai to help prevent sticking to it. Let the siomai steam for 10 to 12 minutes.

Transfer into the plate and served it with soy sauce mixture dipping sauce and calamansi. Enjoy!
Notes
If you don't have a steamer, you can use the rice cooker since it is usually comes with the food steamer tray.
The egg yolk is optional if the cornstarch can already bind the chicken fillings.
 
Nutrition
Serving: 5ServingCalories: 153kcalCarbohydrates: 31.5gProtein: 4.8gFat: 0.6gSaturated Fat: 0.1gCholesterol: 4mgSodium: 644mgPotassium: 134mgFiber: 1.6gSugar: 1.4gCalcium: 36mgIron: 2mg
Source link