Chicken Salona is a traditional Emirati tomato stew dish found in Gulf Arab countries, including the United Arab Emirates, which consists of chicken pieces cooked with different vegetables, herbs, and spices. It is rich in flavor which is best to eat with rice or pita bread.
Jump to:
When I lived in a Gulf Arab country for 18 years, I tried many delicious local cuisines that showcase the vibrant flavors and culinary traditions of the Middle East. In my experience, what I've learned about their culture is that when they serve their meat & rice dishes like kabsa, majboos, or mandi, it is always accompanied by a tomato-stew dish.
I have eaten many tomato stew dishes, and I can tell you that Middle Eastern foods are one of the best in the world. One Gulf Arabic stew dish that I am so obsessed to eat and make is the Chicken Salona which is an Emirati chicken dish.
The locals called this dish Dajaj Salona (دجاج سلونة in Arabic) which the word Dajaj means "Chicken" and Salona meaning "vegetables". By the name of it, this is a chicken tomato stew dish with assorted vegetables.
What is Salona?
Salona (سلونة) is a tomato stew dish that is a combination of meat (such as chicken, lamb, or beef) and an assortment of vegetables, herbs, and spices. It is mostly eaten and found in Khaleej Arab countries like United Arab Emirates, Kuwait, Qatar, and Bahrain.
It is considered a traditional Bedouin dish since it was passed down from one generation to another. It is considered a comfort food, served on special occasions like Ramadan or Eid, family gatherings, and holiday celebrations.
The ingredients and techniques may vary across different cultures and regions. For example, the Emirati uses Bezar spices while other countries use baharat or other Arabic spices. Nonetheless, the dish tastes the same since the Khaleej shares similar culture including its food.
As a half-Arab, this is one of my favorite Gulf Arabian tomato stew dishes. And in this post, I have written a recipe for how to make this delicious Chicken Salona or Dajaj Salona.
Recipe Ingredients
Here are the ingredients to make this delicious chicken salona:
Chicken: I am using Chicken drumstick and Thigh since they are juicy and moist.
Vegetables: I am using carrots, potatoes, and zucchini.
Tomatoes and Tomato Paste: This will help redden the stew and enhance tomato flavor.
Herbs and Spices: Now these are the most important spices & herbs you need to enhance the aroma and flavors of your dajaj salona:
Cumin
Turmeric
Curry
Coriander Leaves
Cardamom Seeds
Black Lime
Ginger
Garlic
Red Onion
Bezar Spice- This is a type of Arabic spice that originated from the United Arab Emirates and contains cinnamon, cumin, fennel, and other different spices. In my experience, this is similar to Baharat spice which is also an Arabic spice from the Middle East.
Other Ingredients: You will need water for making a stew, and vegetable oil for sautéing the others like potatoes or chicken.
Notes: You might notice that in the picture there is no cardamom mentioned, but I accidently forgot to include it in the picture.
Difference between Bezar vs Baharat Spice
Despite they are both Middle Eastern spices and use similar spices, it does have a little bit of variation.
Emirati Bezar spice is a specific spice that is used in the United Arab Emirates (UAE). The core ingredients of Bezar are similar to those found in Baharat, such as black peppercorns, cumin, coriander, cardamom, cinnamon, cloves, and turmeric
On the other hand, Baharat spice has variations across different countries and regions, including but not limited to some Gulf Arab countries, Lebanon, Syria, Turkey, and Iran. It typically includes a combination of spices like black peppercorns, cumin, coriander, cloves, cardamom, cinnamon, and nutmeg.
One thing to know is that both of these spices are used to season grilled meats, stews, rice dishes, and vegetable preparations in these countries.
Step By Step Instruction
Here are the instruction on how I made this delicious Emirati Chicken Salona: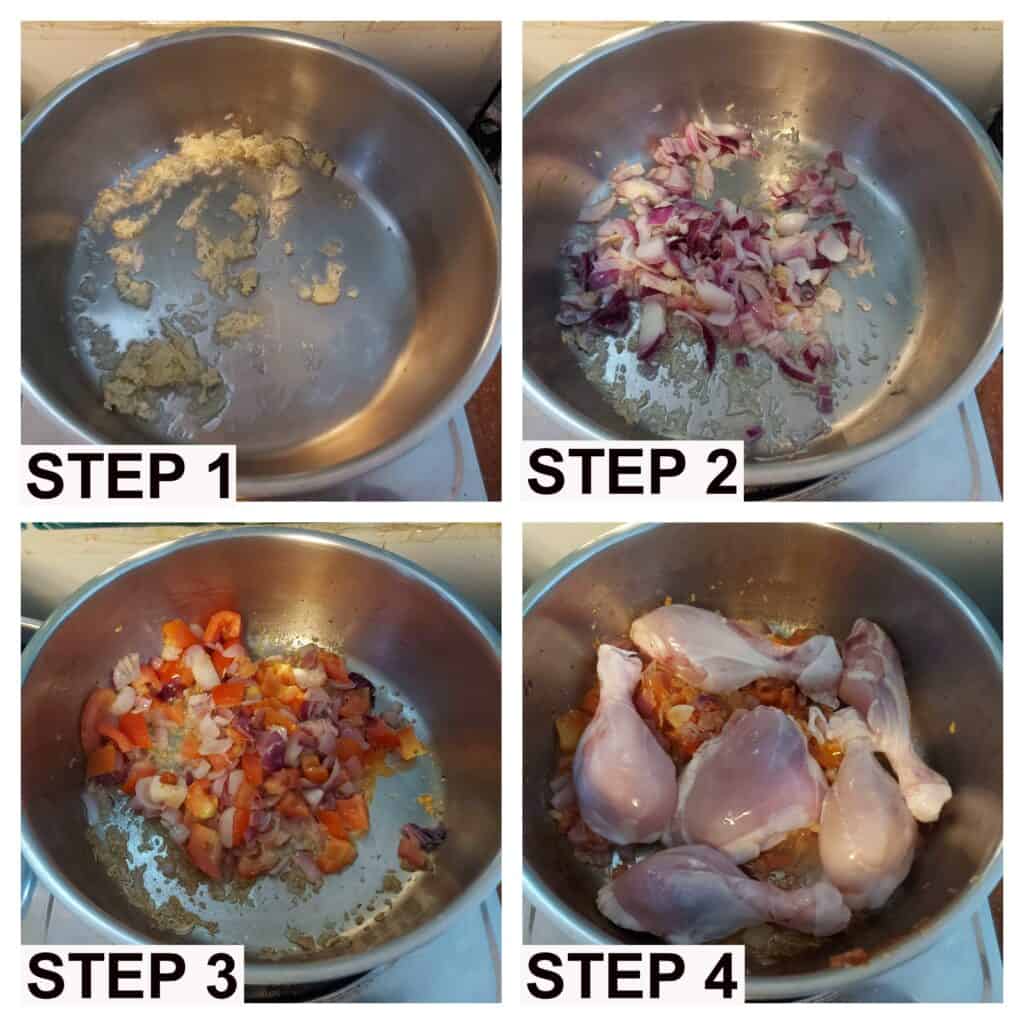 STEP 1 & STEP 2: I add vegetable oil to a large pot, and when it's hot then I saute garlic ginger paste and onion.
STEP 3: I add chopped tomatoes and stir till they become soft
STEP 4: After that, I add chicken drumstick and thigh, which I stir gently and leave for 5 minutes.
STEP 5: Next, I add all the spices like turmeric, cumin, curry & bezar spices, and then stir it gently.
STEP 6: I poured 3 cups of water & tomato paste, and wait till started to boil. Let it simmer for 20-30 minutes.
STEP 7 & STEP 8: During the simmering process, add the dried lime (black lemon) and cardamom seeds. Add also the chopped coriander leaves and gently stir to combine.
STEP 9 & STEP 10: While simmering the chicken, I pan-fried the potatoes and carrots, which I half-cooked since the rest will be done through simmering.
STEP 11: After that, I transferred the pan-fried potatoes & carrots including the cut zucchini to the pot. Gently stir to combine.
STEP 12: Continue simmering until the chicken and the vegetables are cooked. Add salt & black pepper for taste.
FINAL STEP: Serve it with Vermicelli Rice or Kuboos bread and Arabic Salad. Enjoy this delicious Gulf Arabian chicken dish.
Frequently Asked Questions
1. What other vegetables I can add in my salona recipe?
You can use other vegetables like eggplant and bell pepper. They both blend well in this dish
2. If I don't have Bezar spice, what other spices I can use?
Bezar spice is a specific spice found in United Arab Emirates but they are found in Khaleej Arab countries too. If you can't find Bezar spice, you can use Baharat Spice or Garam Masala.
3. What other meats I can use in this recipe?
If you don't like chicken, you can use lamb or beef. But I would suggest using a pressure cooker since this type of meat takes longer to cook.
4. How long can this last in the fridge/
You can store it in the fridge for up to 5 days. You can also keep it in the freezer for a longer duration (1 month) but the taste may weaken.
5. What do you serve this chicken salona with?
Like most Middle Eastern food, this is traditionally served with rice or pita bread (khubz / kuboos), and Arabic salad.
Other Arabic Stew Recipes to try
There are other delicious Middle Eastern and Arabic stew recipes that you can cook at home:
???? Recipe Card
Chicken Salona (Emirati Chicken Stew)
Saif Al Deen Odeh
Chicken Salona is an Emirati chicken stew recipe made with chicken, vegetables, and spices simmered in a rich tomato-based broth.
Ingredients  
6

Pieces

Chicken, Thigh and Drumstick

1

Large

Potatoes, cut into several pieces

1

Large

Carrot, sliced

1

Large

Zucchini, cut into several pieces

1

Large

Tomato. chopped

1.5

Tablespoons

Tomato Paste

3

Cups

Water

5

Tablespoons

Vegetable Oil

Salt and Black Pepper for Taste
Spices and Herbs
1

Teaspoon

Garlic, grated

1

thumb-size

Ginger, grated

1

Large

Red Onion, chopped

1

Teaspoon

Curry powder

1

Teaspoon

Cumin powder

½

Teaspoon

Turmeric Powder

1

Tablespoon

Bezar Spice

2

Pieces

Black Lime

2

Pieces

Cardamom

1

Cup

Coriander Leaves, Chopped
Instructions 
Add vegetable oil to the cooking pot. Once hot, add grated garlic and ginger. Stir for less than 30 seconds.

Add chopped red onion. Stir till it turns translucent.

Add chopped tomatoes. Stir gently till it becomes soft.

Add the chicken to the pot. Mix to combine and leave it for 5 minutes before adding the spices (Cumin, Tumeric, Curry, and Bezar Spice). Mixto stir.

Pour 3 cups of water and tomato paste and wait till it started to boil.

Once boiling, lower the heat and let it simmer for 30 minutes. Add dried lime & cardamom seeds.

Add chopped coriander leaves while in the middle of simmering. Mix gently.

Also, during simmering, pan fry the potatoes and carrots in a separate pan. Make it half-cooked since the rest will be done by cooking in the pot.

Once done, transfer the carrot and potatoes to the pot. Add the cut zucchini. Stir to combine.

Let it simmer for total 25-30 minutes or until the chicken is cooked. Add salt and black pepper for taste.

Serve it with vermicelli rice or any plain rice, Arabic salad, and kuboos (pita bread). Enjoy!
Notes
If you don't have Bezar spice, you can use Baharat or Garam Masala.
You can use other vegetables like eggplant or bell pepper.
This is best serve with pita bread (khubz) or rice.
If you want it spicy, you can add 1 teaspoon of red chili powder. 
Nutrition
Serving: 4gCalories: 471kcalCarbohydrates: 28.5gProtein: 27.6gFat: 28.6gSaturated Fat: 6.6gCholesterol: 105mgSodium: 600mgPotassium: 935mgFiber: 5.9gSugar: 7gCalcium: 86mgIron: 3mg
Source link