Chicken Liver Adobo is a Filipino liver recipe mixed with a boiled egg that is cooked in vinegar, soy sauce, onion, garlic, and other seasonings. This rich and savory dish is called Adobong Atay in the Philippines, which is best served and eaten with white rice.

Jump to:
Adobo has been a staple of Filipino cooking which is eaten by the locals regardless of their ages and social classes. There are many variations of adobo dishes most of us are familiar with chicken or pork adobo. But, there are different adobo dishes like adobong pusit (squid), and vegetable adobo.
I remember several years ago when I went to my mother's hometown in Cebu Island in the Philippines, they made this chicken liver adobo which is mouthwatering. It is one of my favorite Filipino liver dishes since it is not only simple, but it is delicious and affordable too.
What is this recipe about?
Adobong Atay is a Filipino chicken liver adobo dish that is marinated first with different sauces, vinegar, brown sugar, and other herbs & seasoning. The liver is sauteed in onion and garlic until it becomes brown. After that, I simmered in the sauce until it becomes tender and flavorful.
In this recipe post, I like to mix it with a few boiled eggs and pieces of chicken thigh since this makes my dish more diverse and delicious. That is because some of my family members prefer chicken or boil eggs so I decided to combine everything at once.
Recipe Ingredients
Here are the important ingredients to make this delicious chicken adobo liver recipe:
Poultry Meat: I am using chicken liver as the main protein ingredient for this dish. In addition to that, I am using boiled egg and chicken thigh. They are not needed, but I added two pieces each just to make the dish diverse.
Condiment Sauce: To make adobo, I use vinegar, soy sauce, and oyster sauce. These are 3 important condiments to make a delicious Adobong Atay.
Herbs: For seasoning, you will need red onion, ginger, garlic, bay leaves, and peppercorn. These herbs will help enhance the flavor of the adobo.
Other Ingredients: Other important ingredients you will need are brown sugar to help add sweetness, vegetable oil to saute the meat & herbs, and water to simmer the liver.
Note: If you don't want to add chicken thigh or boiled egg, you can exclude it since the main ingredient is the liver.
How to Clean the Liver?
Before cooking the liver, it is important to clean it first since it has a strong odor which may make the food unappetizing. Here are the steps on how to clean and remove the odor of the chicken liver:
Use a knife or scissors to cut off the fats and the organ heart attached to it.
Wash it with water 3 times.
Add a few slices of lemon and 1 tablespoon of salt to the washed liver. Use your hand to mix it. Leave it for 5 minutes
Wash it again with water to remove the salt and lemon. Once done, you can set it aside and prepare to cook your dish.
Step by Step Instruction
Here are the steps on how to make this delicious Filipino Chicken Adobo liver recipe-Adobong Atay.
I. Marinating the Chicken Liver
Firstly, I marinated the chicken liver with soy sauce, vinegar, oyster sauce, and brown sugar. Mix it and leave it for 5 minutes to help absorb the flavor.
II. Cooking the Chicken Liver Adobo
Firstly, I add few tablespoons of vegetable oil n the big cooking pan.
Once the oil hot, I sauteed the ginger, garlic and red onion till it becomes translucent or cooked.
After that, I added the liver have it sautéed until it becomes brown. Remove it from the pan and transfer into the bowl.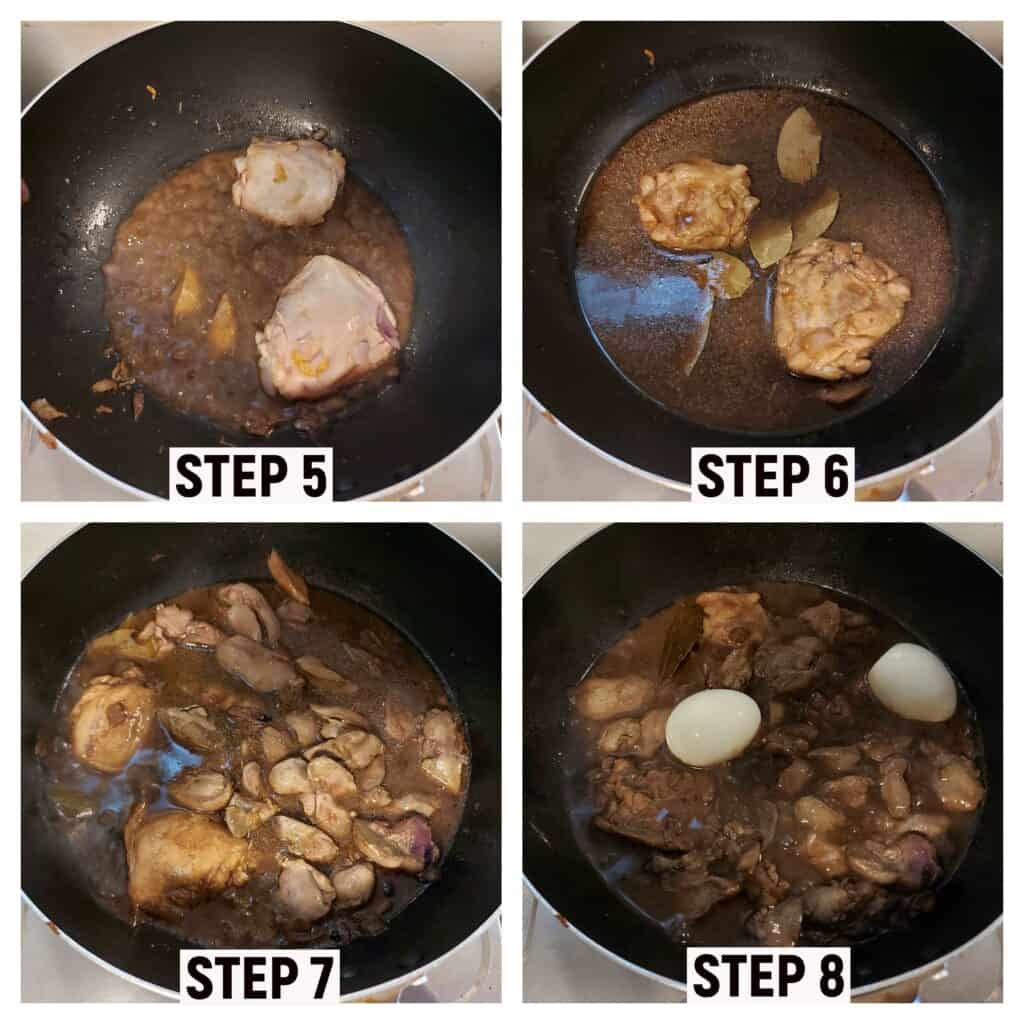 Now this is optional, but if you are adding chicken thigh or leg to your adobong atay dish, you can add them in the same sauce. In this recipe, I only added two pieces of chicken thigh.
I give it a gentle stir before I added the marinated sauce, bay leaves, and peppercorn. Pour also 1 cup of water and wait till started to boil.
Once it started to boil, I added the half-cooked liver and let it simmer for a total of 30 minutes on low heat.
When the liver and the chicken are cooked, add the boiled egg and gently stir to combine.
Make sure you serve this with rice. Enjoy!
Variation
Here are other variations of adobo recipes:
Adobong Kangkong with Tofu- This is a Filipino vegetarian adobo recipe that consists of tofu, kangkong leaves (Water spinach), and seasoning sauces like vinegar, soy sauce and oyster sauce.
Chicken Adobo with Potatoes- This is an authentic filipino chicken adobo that is combined with potatoes. The seasoning sauces is basically the same that is used in adobong atay.
Adobong Sitaw- This is a Filipino adobo vegetable dish that consists of stir fry green bean mixed with chopped chicken breast.
Frequently Asked Questions
1. What does "atay" mean?
Atay is a Filipino word meaning "liver" in English
2. Is Adobong Atay healthy?
Yes, since the liver is rich in iron and other nutrients. However, this dish can contain a high amount of sodium due to the use of soy sauce.
3. What goes well with this dish?
Chicken Liver Adobo is often served with white rice and a side of vegetables, such as ginisang sayote. It can also be paired with other Filipino dishes, such as vegetable lumpia or pancit bam-i.
4. How long can it last in the fridge?
You can store in the fridge for up to 5 days. However, you can keep it in the freezer for longer storage.
📋 Recipe Card
Chicken Liver Adobo (Adobong Atay)
Saif Al Deen Odeh
This chicken liver adobo is mixed with boiled egg which is simmered in soy sauce, vinegar, oyster sauce, bay leaves and other seasonings.
Ingredients  
500

grams

Chicken liver

2

Pieces

Peeled Boiled Egg

2

Pieces

Skinless Chicken Thigh (Optional)

½

Cup

Soy Sauce

½

Cup

Vinegar

1

Cup

Water

4

Tablespoons

Oyster Sauce

1.5

Tablespoon

Brown sugar

3

Pieces

Bay Leaves

2

Teaspoons

Grated Garlic

1

Thumb-size

Ginger

1

Medium

Red Onion, chopped

6

Pieces

Peppercorn

4

Tablespoons

Vegetable Oil
Instructions 
Marinate the chicken liver with soy sauce, vinegar, oyster sauce, and brown sugar in a large bowl. Mix gently and set it aside.

Add vegetable oil to a large cooking pan. Once hot, add garlic and ginger. Stir for 30 seconds or less.

Add chopped red onion. Stir till it turns translucent.

Add the marinated chicken liver (excluding the sauce). Sautee till it becomes brown. It doesn't have to be fully cooked yet.

Have it remove from the pan and transfer it into the plate bowl. Set aside.

Add the chicken thigh in a same pan . Stir for few minutes before adding the marinated sauce.

Add the bay leaves and peppercorn. Give a quick stir before pouring 1 cup of water. Adjust to high heat.

Once it started to boil, add the chicken liver and let it simmer for 25 to 30 minutes in low heat.

Once the liver is cooked, add the boiled egg and gently mix to combine before turning off the heat.

Serve it with white rice and any vegetable side dishes. Enjoy!
Notes
To clean the liver, cut off the fats and wash it with salt and lemon. For full detail, look at the recipe post.

Make sure you boil the egg ahead to save time.

The chicken thigh is optional if you don't want to include this in the recipe.
Nutrition
Serving: 5gCalories: 410kcalCarbohydrates: 9.1gProtein: 39.6gFat: 22.7gSaturated Fat: 5.7gCholesterol: 673mgSodium: 1450mgPotassium: 494mgFiber: 0.8gSugar: 4.4gCalcium: 46mgIron: 13mg
Source link