Buffalo Chicken Rangoons is a snack dish that consists of a creamy mixture of shredded chicken, cream cheese, and buffalo sauce wrapped in wonton wrappers and then fried until crispy. This snack is best paired with ranch or blue cheese dressing to complement the spiciness of the Buffalo chicken fillings.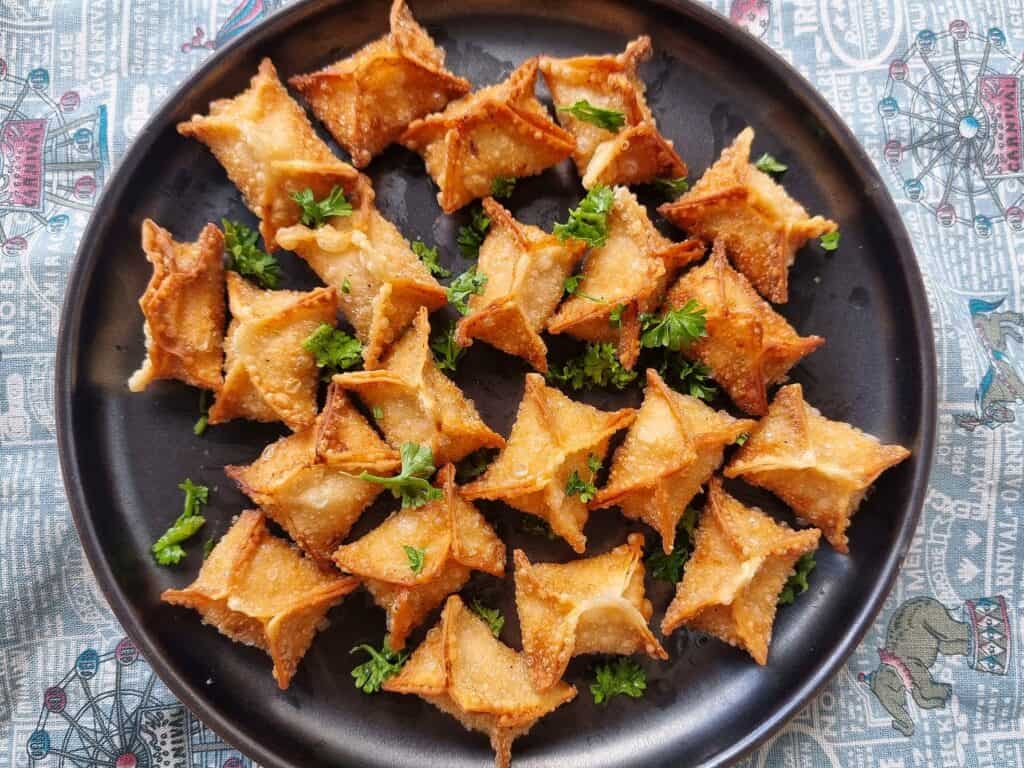 Jump to:
The word "Rangoons" comes from a large city of Myanmar (formerly Burma) called Yangon, which was once called Rangoon during British colonial rule. Despite the name, there is actually no connection between Burmese cuisine and this recipe since this is more of an American-Chinese food.
In the United States, what makes rangoons different from other variations of wontons is that they contain fillings of cream cheese and other meats like crab or chicken. If you tried some American-Chinese restaurants in the United States, you are probably familiar with crab rangoons.
But in this post, I have made my version of buffalo chicken rangoons which is an example of an Asian or Chinese-inspired American food. This recipe is considered a combination of buffalo chicken with cream cheese stuffed into a traditional wonton. This spicy fried snack is perfect to serve during gatherings with friends or families when watching your favorite movies or shows.
Recipe Ingredients
Here are the ingredients you need to make a delicious buffalo chicken rangoons: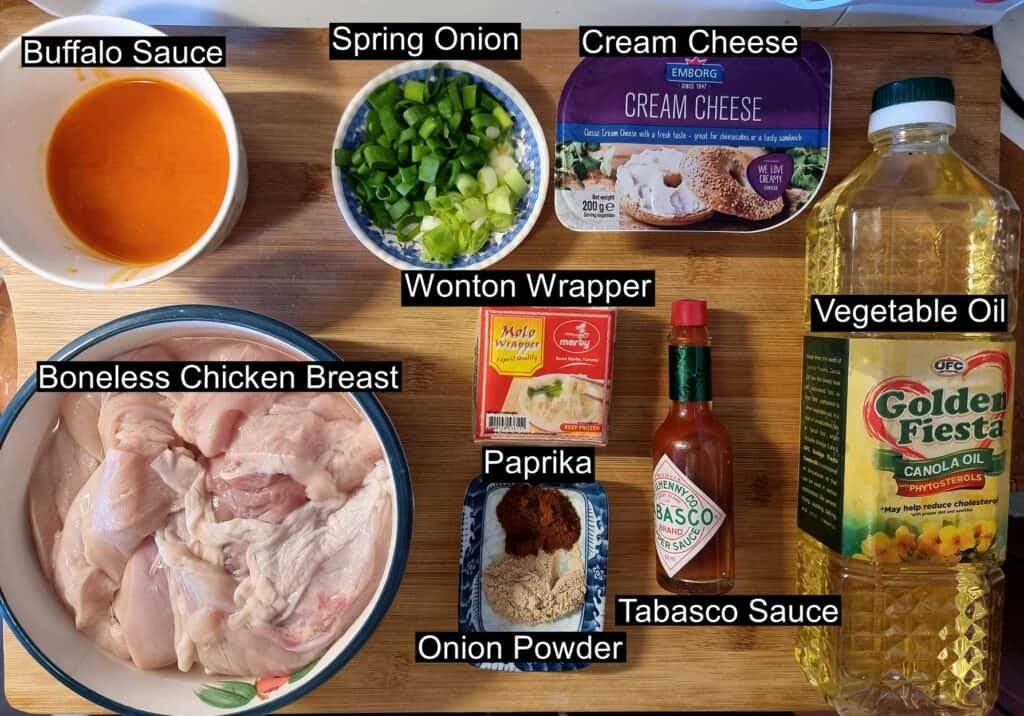 Chicken: I am using boneless chicken breast which will be boiled and shredded to become part of the filling.
Buffalo Sauce: This spicy and tangy flavor will be added and mixed with the shredded chicken. I am using any brand of Buffalo sauce since it's more convenient than making your own.
Tabasco sauce (optional): In addition to buffalo sauce, I am also adding tabasco sauce to spice up my chicken rangoons. This is considered optional if the buffalo sauce is too spicy for you.
Garlic & Onion Powder: These will enhance the flavor by adding savory fillings.
Paprika: This will add color and a mild, smoky flavor to the filling mixture.
Cream Cheese: This is one of the main ingredients that will add creaminess, bind the shredded chicken, and reduce the heat of the Buffalo sauce.
Spring Onion: The onion will enhance the flavor of the chicken fillings.
Vegetable Oil: The oil will be needed to deep fry the wonton to have a nice golden brown texture.
Step by Step Instruction
I. Shredding the Chicken
Steps 1 & 2: I poured water on a cooking pot, and placed the chicken breast on it.
Step 3: let the chicken breast boil for 5-10 minutes or until it is cooked and soft.
Step 4: Once the chicken is cooked, I drain the water and wait till it starts to cool down. Use the fork & knife to shred the chicken into pieces. Set it aside.
II. Making the Chicken Fillings
Step 5: Place the shredded chicken into the bowl.
Steps 6 & 7: I add the buffalo sauce, tabasco sauce, cream cheese, and the rest of the ingredients into the bowl. Stir to combine gently.
III. Assembling the Chicken Rangoons
Step 8: To make the fillings, I prepared each wonton wrapper.
Step 9: After that, I placed 1 tablespoon in the center of the wrapper.
Step 10: To close it, bring the top and bottom corners and pinch them together. Next, take the left corner of the triangle and fold it towards the top corner. Press to seal. Repeat this process with the right corner, overlapping it slightly on the sealed left corner to form a secure closure. Repeat the rest of the rangoons and set them aside.
IV. Deep frying the Rangoons
Step 11: Now once you assemble as many raccoons as you can, transfer them to the plate in preparation for deep frying them.
Step 12: In a different deep frying pan, I poured vegetable oil on medium heat.
Step 13: Once it becomes hot, I place the chicken wontons into the oil. Let it deep fry for a few minutes.
Step 14: Once it became golden brown, I removed it and transferred it to the plate. Place a paper towel to remove the excess oil.
Final Step: Serve this delicious rangoons with sour cream, ranch, blue cheese, or any dressing you desire. Bon Appetite!
Tips and Hints
Avoid overfilling them since they might burst open during frying.
Place a paper towel below to drain excess the oil.
If your wonton doesn't seal properly, use a little water to moisten the edges, and press firmly to seal.
Adjust the amount of buffalo sauce if you can't tolerate it too spicy.
You can replace buffalo sauce with Tabasco sauce by adding 2 to 3 tablespoons.
Do not use high heat when frying since it may overcook or burn the wonton giving it a charred flavor.
Fry the rangoons in batches so they can be cooked evenly and maintain their crispiness.
Questions and Answers
Can I bake rangoons instead of frying them?
If you prefer a healthier approach, you can bake instead of deep frying since it contains less oil. You can preheat the oven at around 375°F (190°C) and bake it for 10-15 minutes or until golden brown.
2. Can I freeze the uncooked chicken rangoons?
Absolutely, you can freeze the uncooked rangoons. Make sure you transfer them into the freezer bag or airtight container before putting them in the freezer, which you can safely store for up to 2 months.
3. How do I reheat the leftover cooked rangoons?
If you want to reheat, I recommend using air-fryer or oven to maintain the crispy texture. To me, I reheat my rangoons using air-fryer which I preheat it in 350°F (175°C) for 2-3 minutes. Do not reheat through microwave since it will make the rangoons soggy or soft.
Other Appetizer or Snacks recipes to try
Here are other delicious appetizer or snacks that you can make at home:
📋 Recipe Card
Buffalo Chicken Rangoons
Saif Al Deen Odeh
Buffalo Chicken Rangoons is a crispy wonton-wrapped bites filled with shredded chicken, cream cheese, and spicy buffalo sauce, best enjoyed with ranch or blue cheese dressing.
Ingredients  
2

cups

of boneless chicken breast

½

cup

of buffalo sauce

Any brand

1

tablespoons

of tabasco sauce

3

stalks of spring onions

1

block of cream cheese

1

teaspoon

of garlic powder

1

teaspoon

of onion powder

1

teaspoon

of paprika powder

25

pieces

of wonton wrappers

Vegetable oil for frying
Instructions 
Shredding the Chicken
Pour water into the cooking pot and place the chicken breast inside.

Let the chicken breast boil for 5-10 minutes until it's cooked and tender.

Drain the water and let the chicken cool. Use a fork or your clean hand to shred it into pieces, then set it aside in a bowl.
Making the Chicken Fillings
Combine the shredded chicken with buffalo sauce, tabasco sauce, cream cheese, and the other ingredients in the bowl. Gently stir to mix thoroughly.
Assembling the Chicken Rangoons
Prepare each wonton wrapper and place a tablespoon of the mixture in the center.

Close the wrappers by bringing the top and bottom corners together, folding the left corner toward the top, and then the right corner to ensure a secure closure. Repeat for the rest of the rangoons and set them aside.
Deep Frying the Rangoons
Heat vegetable oil in a deep frying pan over medium heat.

Fry the chicken wontons until they turn golden brown, then remove and place them on a plate lined with paper towels to absorb excess oil.

Serve these delicious Buffalo Chicken Rangoons with sour cream, ranch, blue cheese, or any desired dressing. Enjoy your meal!
Notes
Adjust the amount of buffalo sauce based on your spicy tolerance.
If you don't have buffalo sauce, you can substitute with 2 tablespoons of tabasco sauce.
To understand the instruction of the recipe, please look at the pictures of the step by step section in the post.
Do not use high heat when frying the chicken rangoons since it may overcook or burned the wonton giving a charred flavor.
Nutrition
Serving: 5PiecesCalories: 250kcalCarbohydrates: 20gProtein: 12gFat: 12gSaturated Fat: 6gPolyunsaturated Fat: 4gMonounsaturated Fat: 2gCholesterol: 60mgSodium: 600mgPotassium: 200mgFiber: 2gSugar: 2gVitamin C: 4mgCalcium: 30mg
Source link