Beef Bola Bola is a Filipino meatball recipe that is combined with ground beef, onions, garlic, carrots, soy sauce, and seasonings. The meat mixture is shaped into small balls, fried until golden brown, and best served with a sweet-spicy sauce or soy sauce.
Jump to:
Last year in the Philippines, I attended a fiesta in my mother's hometown in Cebu where I stayed in my Aunt's house. Fiesta is a Filipino festival where they celebrate their town's religious history.
During that day, it is traditional that families cooked and served many delicious local foods, which they invite families and friends in their house. And in that house, this is the first time I tried their Filipino meatball called bola bola which is similar to an Italian meatball.
It is one of my favorite and yet simple Filipino dish which you eat it with white rice and sweet spicy sauce. Since I was inspired by my Aunt's meatball, I will be showing you my version of how to make this delicious Filipino beef meatball recipe
Recipe Ingredient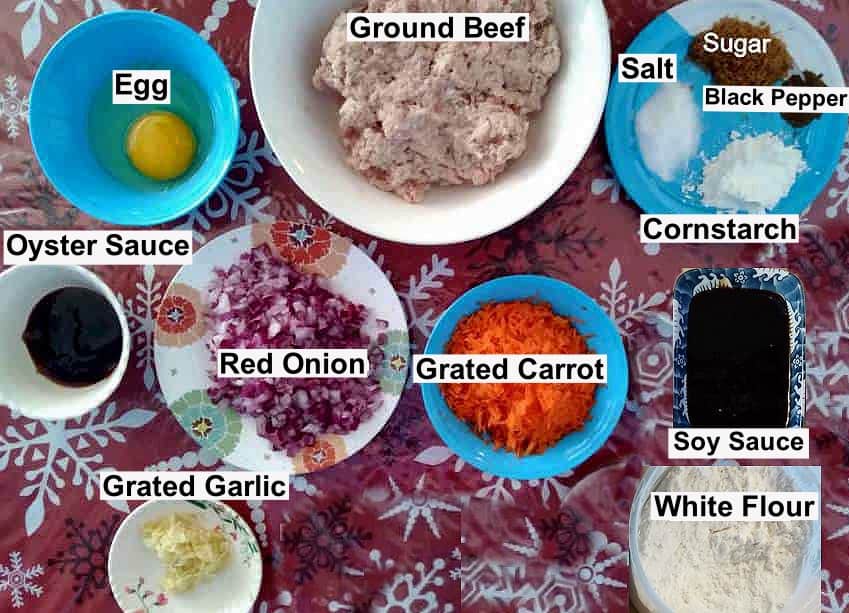 1.   Ground Beef: This is my ingredient which is made from finely minced or ground beef. I am using 90% lean and 10% fat.
2.   Onion & Garlic: I grated both the onion and garlic since these two will enhance the flavor of my ground beef.
3.   Carrot: I grated the carrot since it adds sweetness and moisture to the meatballs. 
4.   Soy Sauce: Soy Sauce is a very important condiment since it adds saltiness and umami flavor to the meatballs.
5.   Oyster Sauce: This sauce is a thick, rich sauce made from oysters which adds a sweet and savory flavor to the ground beef.
6.   Egg: The egg will act as a binding agent and it also adds moisture and contributes to the texture of the meatballs.
7.   Vegetable Oil: Of course, you need vegetable oil to fry the meatball until they are golden brown.  I prefer canola oil since it is healthier than most cooking oil. 
8.   Salt & Black Pepper: These two will add seasoning to the meatball.
9.   Flour: Flour is used to coat the meatballs before frying. It helps create a crispy crust on the outside of the meatballs and adds texture.
Notes: Cornstarch is optional but you can only use it for binding purposes.
Cooking Instruction
Here are the instruction to make this delicious beef bola bola recipe:
 Firstly, mix the ground beef, soy sauce & oyster sauce, egg, and the rest of the ingredients. Use your hand to mix all of them
Next, shape 1 ½ to 2 tablespoons of ground beef mixture into a ball-shaped and dredge it with flour.
After that, I poured cooking oil into the deep pan. Once the oil is hot, add the Filipino meatball to the oil. Stir it for a few minutes or until it turns dark brown.
Transfer the entire meatball to the plate. Make sure you put the paper towel to help absorb the excess oil of the bola bola
Serve it with sweet spicy sauce or soy with vinegar sauce and white rice. Enjoy.
Variation
With this recipe, you can make different meatball variations from other countries using other ingredients instead of soy sauce and oyster sauce:   
For Japanese variation, you can marinate the ground beef with teriyaki sauce instead of soy sauce and oyster sauce before shaping it into a meatball.  
For a Middle Eastern twist, you can add fresh herbs like parsley, coriander, or oregano along with different spices into the meat mixture and serve it with yogurt and garlic sauce. One example is my homemade beef kofta kebab.
For the Spicy version, you can add some chopped chili peppers or a sprinkle of cayenne pepper to the ground meat mixture.
For Indian variation, you can add curry powder or masala spices to have a delicious Indian meatball which serves with curry sauce or yogurt-based raita.  
Tips and Hints
Use lean ground beef for your bola bola- preferably 90% and 10%. You need to make sure it doesn't contain much fat to avoid greasiness.
Grating the carrots, onion and garlic instead of chopping them helps distribute the flavor evenly on the meat mixture.
If the ground meat mixture breaks off during frying, using cornstarch will do the trick.
Avoid overcrowding the meatball when frying. Make sure you fry the meatballs in batches to help maintain its shape.
Use paper towel to help remove excess oil after frying the Filipino meatballs.
You can use this meatball when making a Filipino spaghetti or even other tomato-based pasta.  
Recipe Frequently Asked Questions (FAQs)
1. Can I make beef bola bola ahead of time?
Yes, you can prepare the beef bola bola mixture ahead of time and store in the refrigerator for a few hours or even overnight. I will suggest you shape the meatballs just before frying to help maintain their texture and shape.
2. Can I freeze my Filipino meatballs?
Absolutely, you can freeze the meatball if you want it to last longer for up to 3 months. Just arrange them on a baking sheet lined with parchment paper and place them in the freezer until firm. Once firm, transfer the meatballs to a freezer-safe container or bag.  
3. What other meats I can use instead of beef?
Traditionally, pork is common ground meat used for this recipe since this is a popular meat in the Philippines. But, because I don't eat pork, I use either ground beef or ground chicken for this recipe.
4. Can I bake my bola bola instead of frying?
If you prefer a healthier approach, you can bake the meatball in the oven instead of deep-frying. Just drizzle with some vegetable oil and bake it in the oven for 20 to 30 minutes at 180 C
5. What happens if my meatball falls apart?
If this happened, it could be the ground beef mixture is watery or soft, which could cause the meat to break down. To prevent this, you can add flour to the ground beef mixture before making it into a ball-shaped. This will help hold the ground mixture while frying in the pan.
Additionally, avoid overhandling the meat mixture when shaping the meatballs. Chilling the mixture in the refrigerator for about 30 minutes before shaping can also help firm it up.
Other Filipino Recipes
This meatball is usually eaten with white rice along with other filipino food dishes. Here are other delicious ground beef Filipino recipes that you can make at home:
???? Recipe Card
Beef Bola Bola Recipe
Saif Al Deen Odeh
Beef Bola Bola is a Filipino meatball recipe mixed with filling of ground beef and other ingredients.
Ingredients  
500

gram

Ground Beef

½

cup

grated onion

3

cloves

grated garlic

½

cup

grated carrot

2

tablespoon

soy sauce

2

tablespoon

oyster sauce

1 Egg

Vegetable Oil for Frying

Salt & Black Pepper

Flour for dredging the meatball
Instructions 
Add the ground beef, grated onion and the rest of the ingredients except the flour in a large bowl. Use your hand to mix to combine.

Once it is mixed, shape 1 ½ to 2 tablespoons of ground beef mixture into a ball-shaped, and dredge each of them with flour.

Next, Pour the vegetable oil in the pan. Once it is hot, add the meatball in the oil.

Stir it for 5 minutes or until it turns dark brown.

Before transferring into a plate, add paper towel to help remove the excess oil of the meatball

Serve it with sweet spicy sauce or soy with vinegar sauce and white rice.
Notes
If the meatball will fall apart, add flour while mixing the ground beef and the rest of the ingredient.
Make sure you remove the juices from the grated onion to prevent having a water ground beef mixture.
Nutrition
Calories: 140kcalCarbohydrates: 7.5gProtein: 11.6gFat: 8.7gSaturated Fat: 2.1gCholesterol: 41mgSodium: 164mgPotassium: 172mgFiber: 0.4gSugar: 0.4g
Source link