Bangus Steak is a pan-fried Filipino milkfish dish (known locally as "bangus") cooked in a tangy and savory sauce made from vinegar, soy sauce, garlic, onion, and other seasonings. This recipe is known for its rich flavor and tender texture that can be served for breakfast, lunch, or dinner.

Jump to:
Bangus is a fish in the Philippines that is considered a staple and favorable fish among locals due to its mild, sweet flavor and firm, flaky texture. It is relatively simple, making it a quick and easy meal to prepare. It is so popular that it can be found in many homes and restaurants across the Philippines.
This is one of my favorite fish to eat since I find it a versatile dish. It can be cooked in a variety of ways, including grilling, frying, and baking. In addition to that, it's also used in soups, stews, and curries.
In this post, I made another variation of a milkfish recipe called bangus steak, which is an adobong bangus that is fried in oil till golden brown and then simmered in different sauces like vinegar and soy sauce. If you enjoyed chicken adobo, then you will love this dish.
Recipe Ingredient
Here are the ingredients to make this delicious Bangus Steak:
Bangus: I am using a boneless milkfish that you can find in most grocery or convenience stores in the Philippines.
Soy Sauce: Add a savory and slightly salty flavor to the fish
Vinegar: This will help add a tangy and acidic flavor which gives it a slightly sour taste.
Brown Sugar: It is a common ingredient that helps add sweetness to the sauce.
Garlic and Onion: They are often both used sauteed in oil which will help add flavor to the bangus. Also, the sliced onion ring will be used as a garnish for bangus steak.
Oyster Sauce: This thick, savory sauce will help adds depth of flavor and richness to the dish.
Water: This will help thin out the sauce & create a more liquid consistency.
Vegetable Oil: You will need oil to pan-fry the fish and saute the onions & garlic.
Step by Step Instruction
Here is the instruction on how to cook this delicious bangus steak:
I. Pan-Frying the Milkfish
I poured vegetable oil into the pan.
 Once the oil is hot, I added each piece of the milkfish to the pan.
 I have it pan-fried on both sides till it turns golden brown (approximately 4-5 minutes on each side)
II. Making the Sauce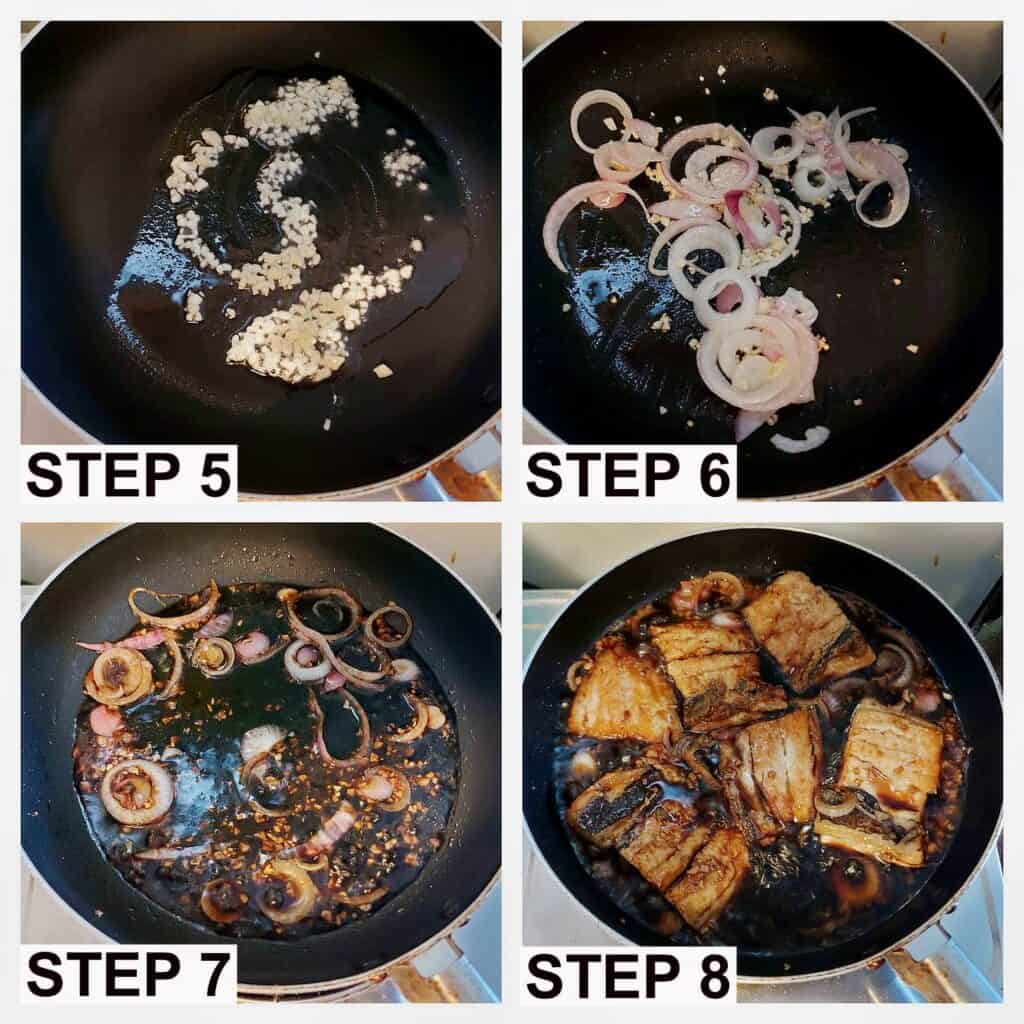 I combine soy sauce, vinegar, oyster sauce, and brown sugar in a small plate bowl which I set it aside.
 Next, I add vegetable oil to the pan and saute the garlic and sliced onion ring. Keep 4 to 5 pieces of onion ring for garnish.
 After that, I poured the sauce and water followed by adding the pan-fried bangus. Let it simmer for 5 minutes to let the bangus absorb the flavor of the sauce.
 Transfer it to a plate and add the onion ring above the milkfish as a garnish. This is perfect to eat with rice.
Coating with Flour or without Flour
Now you might notice that in some recipes, they coated their bangus with flour before frying. That is because coating the fish with flour will help make it crispier, maintain moisture, aid in browning the fish, and prevent the oil from splashing at you if the milkfish is wet.
Based on the picture above, I coated the bangus with flour before pan-frying it. And I noticed that despite it doesn't add much flavor, it creates a crispy and golden outer layer for my milkfish.
Variation
Bangus Sisig- A Filipino sizzling flaked milkfish dish originated from Kapampangan that is mixed with chopped onion, green chili peppers, and seasoning sauces. 
Baked Bangus– A delicious Filipino Baked Bangus which is an oven baked milkfish recipe topped with onions, tomatoes, ginger and soy sauce.
Tips and Hints
It is better to have the milkfish deboned. If the bangus is not already deboned, you can ask your fishmonger to do it for you, or you can do it yourself.
Make sure the bangus is not wet before placing it in the frying pan to prevent splashing oil.
Preheating the pan before adding the oil will help prevent the fish from sticking to it.
Simmering the bangus for a longer period of time (10 minutes) will help absorb the flavor.
If you prefer less oil, you can grill the bangus fillets instead of frying them. Preheat the grill and then brush the fillets with oil when grilling for a few minutes on each side until cooked through.
Bangus steak pairs well with different side dishes such as white steamed rice and other vegetable dishes like Filipino tomato salad or Ensaladang talong (Filipino eggplant salad).
???? Recipe Card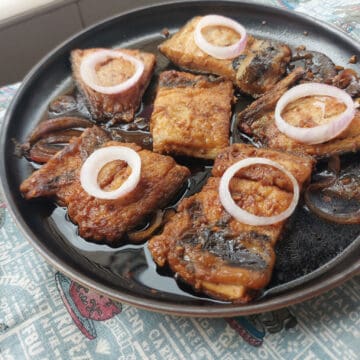 Bangus Steak Recipe
Saif Al Deen Odeh
Bangus Steak is a pan-fried Filipino milkfish dish cooked in a tangy and savory sauce made from vinegar, soy sauce, garlic, onion, and other seasonings.
Ingredients  
1

Boneless Bangus (Milkfish), divide into 6 pieces

⅓

Cup

soy sauce

2

Tablespoons

vinegar

2

Tablespoon

oyster sauce

½

Cup

water

1

Tablespoon

brown sugar

4

Cloves

garlic, chopped

1

Medium

Red Onion, cut into ring shape

½

Cup

Vegetable oil (For frying)

2

tablespoons

vegetable oil (for sauteing)
Instructions 
Pour vegetable oil in the frying pan.

Once the oil is hot, add each piece of bangus to the pan. Fry on each side till it turns golden brown. Transfer to the plate with a paper towel below. Set it aside.

Combine soy sauce, vinegar, brown sugar and oyster sauce on a small plate bowl. Set it aside.

Add 2 tablespoons of vegetable oil in a new pas.

Add chopped garlic followed by cut onion rings (Leave 4-5 onion for garnish). Saute till it turns translucent.

Add the sauce mixture on the pan followed by water. Stir to combine.

Place the fried bangus on the pan. Let it simmer for 5-10 minutes to let the milkfish absorb the flavor.

Once done, transfer them to the plate and place the remaining cut onion ring that wasn't sautéed above the bangus as a form of garnish.

Serve it with white steamed rice and vegetable salad. Enjoy!
Notes
Make sure you dry the bangus before placing it in the frying pan to prevent splashing oil.
Use deboned or boneless bangus, and if you can't find one, you can ask the fishmonger to remove it for you.
Use flour if you want to make your bangus crispy
To understand the recipe, you can check the step-by-step pictures on the recipe post.
Nutrition
Calories: 355kcalCarbohydrates: 7.7gProtein: 32gFat: 22.3gSaturated Fat: 6gCholesterol: 80mgSodium: 1100mgPotassium: 108mgFiber: 0.8gSugar: 3.8gCalcium: 46mgIron: 1mg
Source link