Asian tofu recipes are one of the best vegan recipes that you can include this special ingredient in your meals. Tofu, also known as bean curd, is a popular staple in Asian cuisine which is made from soybeans. It has a high source of protein, is low in fat, and is used in different dishes. These include soups and stir-fries to salads and desserts.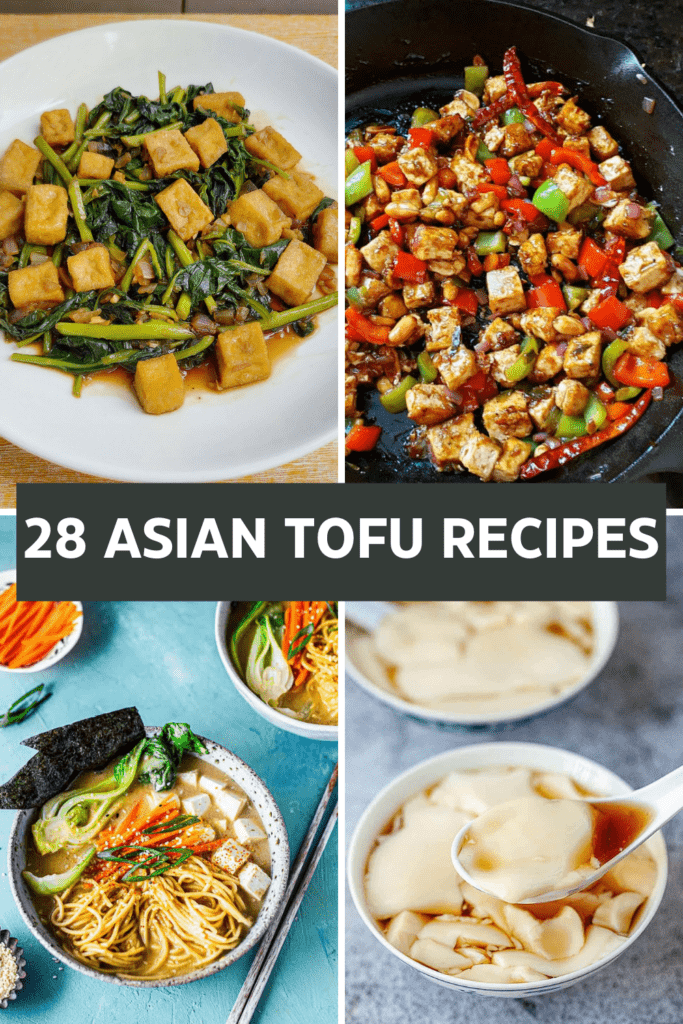 Jump to:
Tofu is one of my favorite protein-based ingredients, which I use in most of my Asian cooking. While living in the Philippines, I get the chance to explore different Asian tofu dishes, which I find not unique but healthy and delicious.
If you think of Asian tofu, the recipe varies from one country to another, with each culture having its unique way of preparing and serving tofu. For example, in Japan, tofu is often served cold as a side dish or in a soup, while in China, it is commonly stir-fried with vegetables and sauces.
One of the reasons tofu is so popular in Asian cuisine is because it can absorb flavors and spices easily. This makes it an excellent ingredient for vegetarian and vegan dishes, as well as for those who want to reduce their meat intake.
Are these tofu recipes vegetarian?
Many Asian tofu recipes are vegetarian, and they can be used as a substitute for meat in traditional Asian dishes. They are healthy and are high in protein which is preferable to most vegan and vegetarian eaters.
However, it is important to know that not all Asian tofu recipes are vegetarian. That is because some of them use condiments that contain animal-based ingredients, such as fish sauce or oyster sauce. One example is pad thai or Vietnamese pho which contains fish sauce condiments. In addition, it may be mixed with different meat or seafood which is common in stews or noodles recipes.
Frequently Asked Questions
1. What kind of tofu should I use for these Asian tofu recipes?
The type of tofu you use depends on the kinds of recipe and your personal preference. There are three main types of tofu: firm, soft, and silken.
Firm tofu is best for stir-frying, grilling, and pan-frying. Soft tofu is ideal for soups and stews, and the silken tofu is great for making desserts or smoothies
2. Can I freeze tofu for these recipes?
A: Yes, you can freeze tofu to change its texture and make it firmer. You can drain and press the tofu, wrap it in plastic wrap or a freezer-safe bag, and freeze for at least 24 hours. Thaw the tofu in the refrigerator before using it in your recipe.
3. Are these recipes usually spicy?
Some Asian tofu recipes may be spicy, depending on the recipe and the level of heat you prefer. Many Asian cuisines use chili peppers or chili paste to add spice to dishes. However, if you don't like spicy food, you can always adjust the amount of chili used in the recipe or don't include it in your ingredients.
4. How do I add flavor to tofu in these Asian tofu recipes?
Tofu is a great ingredient for absorbing flavors and can be marinated or seasoned with spices and sauces to add flavor. For example, you can marinate it in soy sauce, garlic, ginger, and sesame oil before grilling or pan-frying. Also, you can coat the tofu in cornstarch or flour and season it with different spices before frying to add a crispy texture.
Now I gave you a brief overview of tofu, here are the 28 best Asian tofu recipes that you can make at home. I have organized the recipes based on the countries:
I. Korean Recipes
1. Soondubu jjigae
Soondubu jjigae is a popular Korean stew recipe that has a spiciness and sourness from kimchi paired with soft tofu, different vegetables, and gochujang paste. It is maybe spicy, but it is healthy and it is perfect to eat in cold weather.
2. Doenjang jjigae
Doenjang jjigae is made from a Korean fermented bean paste soup called Doenjang which is filled with different vegetables and tofu. This spicy soup blends perfectly with rice which you will need when living in cold weather.
3. Sticky Tofu
This sticky tofu recipe is deep-fried in oil, and it is mixed with a sweet-like sauce, which is similar to teriyaki. The stickiness comes from arrowroot powder, and it is seasoned with garlic, onion, and ginger powder for flavor. You can eat this with rice and other steamed vegetables like broccoli or carrot.
4. Dubu Jorim
This is a Korean pan-fried tofu dish that is simmered in a spicy, sweet, and salty sauce, and it is best paired with white steamed rice. The spiciness comes from gochujang paste which is an important condiment in Korean cooking.
5. Silken Tofu
This silken tofu has a texture that is different than soft or regular tofu. Unlike other recipes, this tofu doesn't have to be cooked which makes it a fast and easy dish to make. Also, it can be served hot or cold. The silken tofu is poured with Korean soy sauce, green onions, peppers, sesame oil, and red pepper flakes!
6. Tofu Bulgogi
The Tofu bulgogi is a bold, salty, and sweet dish that is marinated for a few hours before it is seared or pan-fried in the pan. It is considered the vegetarian version of beef bulgogi, which you serve with rice or a slice of a lettuce leaf.
7. Vegan Bibimbap
The Bibimbap is traditionally added with ground beef or pork, but this version uses tofu which is vegan-friendly. It is a Korean rice bowl dish that is combined with sauteed spinach, mushroom, radish, carrot, beansprout, and rice. This bibimbap has a sweetness, and savoriness and is rich in umami flavor, which makes it a delicious and healthy dish.
8. Black Bean Tofu Noodle
This is a Korean-Chinese crispy tofu dish that is made from a black bean sauce called chunjang. This dish is mixed rice or noodles and is topped with sesame seeds and green onions.
II. Filipino Recipes
9. Adobong Kangkong
Adobong Kangkong with Tofu is a Filipino vegetable recipe that is mixed with fried tofu, kangkong leaves (water spinach), and soy sauce. This is one most popular kangkong dish that is best to served with rice.
10. Tofu Sisig
Tofu Sisig is a Filipino spicy crispy sisig recipe that is mixed with deep-fried tofu, white onion, green chilies, soy sauce, and mayonnaise. It is a considered a vegetarian version of pork or chicken sisig which is best paired with rice.
11. Taho
Taho is a Filipino breakfast treat made of soft or silken tofu, brown sugar syrup (arnibal), and sago or tapioca pearls. It is considered a childhood favorite every time since the taho vendor walks around the neighborhood in the early morning to sell this delicious breakfast sweet.
III. Thai Recipes
12. Pad Thai
Pad Thai is a thai stir fried rice noodles dish that is mixed with  eggs, red chili pepper, peanuts, bean sprouts, cabbages, and tofu in a tamarind-based sauce. It is considered one of the most popular thai food among locals and tourist alike.
13. Pad Kra Pao
Pad Kra Pao is a Thai Basil tofu stir fry dish which is a vegan rice noodle dish consisting of crispy tofu mixed with a sweet and spicy Thai chili sauce. The rice noodle added coconut milk and fresh garlic which makes it flavorful than ordinary noodles. It is a gluten-free and quick recipe that takes only 20 minutes to make.
14. Tofu Green Curry
This is a Thai green curry that is made with green curry paste, coconut milk, and other ingredients that can be made in 30 minutes! Although it contains tofu, it is not vegan-friendly since it contains coconut milk and fish sauce. Nonetheless, it is delicious, creamy, and flavorful, which is best paired with rice.
15. Jungles Noodles
This Jungles Noodles is a gluten-free Japanese Thai noodle dish that is sweet, spicy and yet savory. It is mixed with different vegetables such as spinach, mushroom, broccoli and spring onion which will melt your mouth
IV. Japanese recipes
16. Teriyaki Tofu
This tofu recipe is deep fried, which makes it crispy on the outside but also soft inside. The crispy tofu is mixed with a special teriyaki sauce which you served as an appetizer or main dish, and of course, it is best paired with rice.
17. Miso Soup
This Miso Soup is a traditional Japanese soup containing a dashi stock mixed with miso paste, which is used for broth soup, giving an umami flavor. It is a healthy, nutritious, and heartwarming homemade soup that is combined with soft tofu, green onion, and tender kombu.
18. Tofu Ramen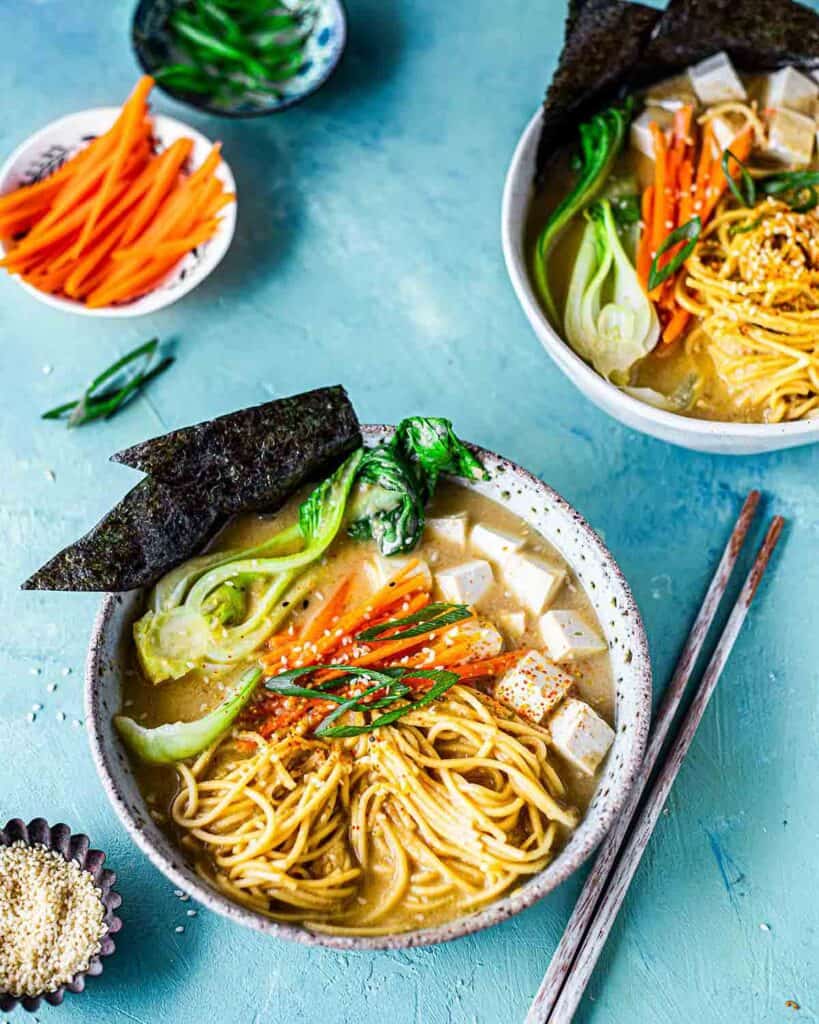 This a Japanese noodle dish that consists of creamy miso and sesame soup, tofu, and vegetables like bok choy, carrot & spring onion. This is a vegan-friendly noodle dish since tofu is used as a source of protein instead of a traditional pork or beef belly. This ramen has a rich umami flavor and is savory, which is comforting to eat during the winter season.
19. Hiyayakko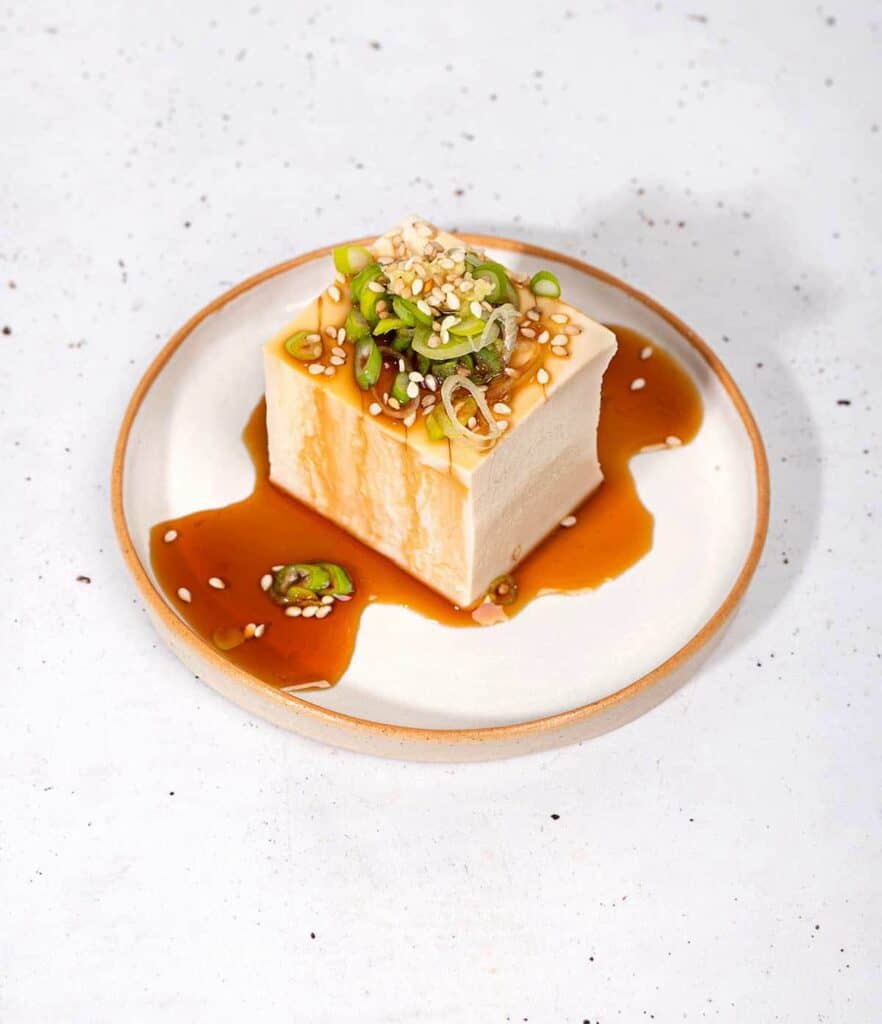 It is a Japanese silken tofu recipe with a topping of homemade sauce. It is a quick recipe since it doesn't need to be cooked, and it is traditionally served as an appetizer or side dish. Hiya" means "cold" in Japanese, which is why it is served as a cold dish.
V. Vietnamese Recipes
20. Lemongrass Chili Tofu
This is a Vietnamese Chili Tofu that is marinated with tofu, soy sauce, chili, honey, and other ingredients before it is seared in high heat. Also known as Dau Hu Chien Sa Ot, this crispy golden brown tofu is a quick recipe that can be made in just 15 minutes.
21. Vegan Pho with Tofu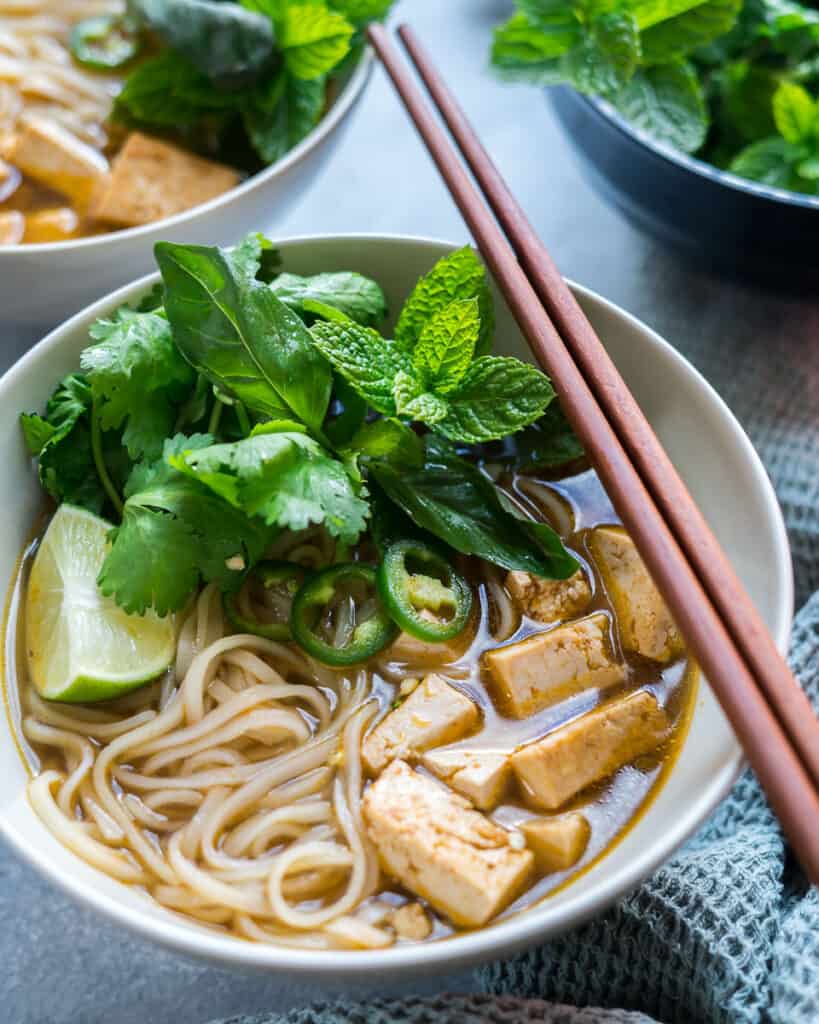 This Vegan Pho is a Vietnamese noodle soup which consists of rice noodle, different herbs, and of course, tofu. This hot bowl of noodle soup is just the perfect combination for a delicious and healthy meal.
VI. Chinese Recipes
22. Tofu Pudding
The Tofu pudding is a Chinese soybean curd dessert that is made with soft tofu. This recipe is usually sweet and serves as a dessert.
23. Salted Egg Tofu
This recipe is fried tofu that is crispy mixed with a salted egg yolk sauce. It consists of a curry leaf and different spices that can be made in just 30 minutes.
24. Chinese Dumpling
The Chinese dumplings are filled with tofu and other vegetable fillings like cabbage, carrot, mushroom, and green onion with condiment sauce like sesame oil, soy sauce, and vinegar. It is traditionally served as an appetizer or side dish, which you can eat alone or served with rice/noodles.
25. Kung Pao Tofu
Kung Pao Tofu is a Chinese stir fried crispy Tofu recipe that is mixed with peanuts, bell pepper and other vegetables, chilies, and a sweet spicy and savory sauce. What makes it spicy is that it contain an important Chinese dried chili ingredients called Szechuan peppers also known as Sichuan peppercorns.
26. Orange Tofu
The orange tofu is quick and vegan friendly dish that is coated in a sweet and stick orange sauce. This crispy fried tofu is traditionally served with rice.
VII. Indian Recipes
27. Tofu Korma
This korma is an Indian creamy and thick sauce gravy that is packed with Indian spices and herbs. It is perfectly served with basmati rice or naan bread
28. Tofu Tikka Masala
This is an Indian Tofu Tikka Masala that is spicy and creamy that is best eaten with rice or roti bread. What makes it red is the tomato paste, the creaminess from yogurt and coconut milk, and the aroma and flavor from the Indian spices.
Source link