Korean food is one of the best cuisines I tried in my life. It has one of the best vegetarian or vegetable recipes in the world, which there food are spicy but they are delicious and nutritious.
Jump to:
The first time I tried Korean cuisine in the Philippines, I noticed two things that make it unique. First, they contain tons of vegetable dishes, and I notice some of them are considered vegetarian-friendly. When you ate in a Korean restaurant or have lunch/dinner with a Korean family, they serve tons of side dishes most of which are vegetables. For example, you can notice that they love to serve kimchi or bean sprouts dishes.
Secondly, most of their foods are considered spicy. Some may not appreciate Korean cuisine since it might be spicy and gassy. But I can promise you that their food is delicious, especially the vegetarian dishes.
In my experience, Korean cuisines contain many vegetarian recipes that you can enjoy eating since it is healthy and delicious. They are usually served as side dishes or as a main meal.
One thing to know is that some of the Korean side dishes you see are traditionally mixed with meat like beef or pork. But, in this post, I am just focusing the Korean vegetarian recipes only.
What common vegetables used in Korean Cooking?
When I cook some Korean recipes and ate in a Korean restaurant, I notice these are the most common vegetables used in their cooking:
Korean radish- This is a white radish that has a crunchy texture which is different than the red radish.
Napa Cabbage- Cabbage is very popular in Korean cuisines, which is why kimchi is a popular condiment in Korean cooking.
Cucumber- In Korean dishes, cucumber is eaten raw which is mostly marinated with different spices and served as a salad.
Bean Sprout- It is served as a side dish for Korean Cooking.
Scallions and Garlics- This is an important ingredient that is added when making a stew or soup dishes.
Seaweed- Also known as Gim, is usually eaten raw but they sometimes serve it together with rice. 
Chili Pepper- This is what makes their food spicy, and they used this ingredient to make a popular condiment pepper sauce called gochujang paste.
Squash- It is used as part of serving side dishes such as making a squashed pancake.
Sweet Potatoes and Potatoes- It is also to make a pancake or served as a side dish, which is marinated with different spices.
Spinach and Zucchini- This is perhaps one of the few green vegetables that are found in Korean Cooking
What makes Korean vegetable dishes healthy?
Korean vegetarian and vegetable dishes are healthy because they are cooked with less oil, boiled, or steamed. If you tried their popular Bibimbap, you will know that serve varieties of vegetables together with rice and egg in a bowl which is very nutritious and delicious too.
In addition to that, their fermented kimchi contains a good amount of probiotics which is important for your digestive system. The only downside is that it could be spicy for those who have a sensitive stomachs.
Now I explain everything here are the best Korean vegetarian recipe that you can make at home:
I. Noodles
1. Japchae (Korean Glass Noodles)
Japchae is a stir-fried vegan Korean sweet potato glass noodle that is mixed with shitake mushroom, cabbage & carrots, and seasoned with soy sauce and sesame oil. It is a popular side dish that is served in most Korean restaurants.
2. Kimchi Udon
This vegetarian kimchi udon stir fry is mixed with kimchi and the crunchiness of the bell pepper, which is seasoned with soy sauce, siracha, and sesame oil. This recipe can be made in just under 20 minutes. It has saltiness, sweetness, and spiciness, but it is just the right amount of spice and texture to curb your craving for Korean comfort food.
3. Bibimmyeon
Bibimmyeon, or Bibim Guksu, is perfect for a hot day! Chewy wheat noodles are chilled and coated in a spicy gochujang sauce. It's topped with kimchi, cucumber, and a hard-boiled egg. This easy vegetarian Korean dish is tangy, spicy, and light yet satisfying.
4. Vegan Jajangmyeon
This vegan jajiangmyeon is a thick wheat noodle cooked in black bean sauce, which is saucy, rich, and packed with flavors! It has an umami flavor, is healthy, and is quick to make in 30 minutes.
II. Rice
5. Kimchi Fried Rice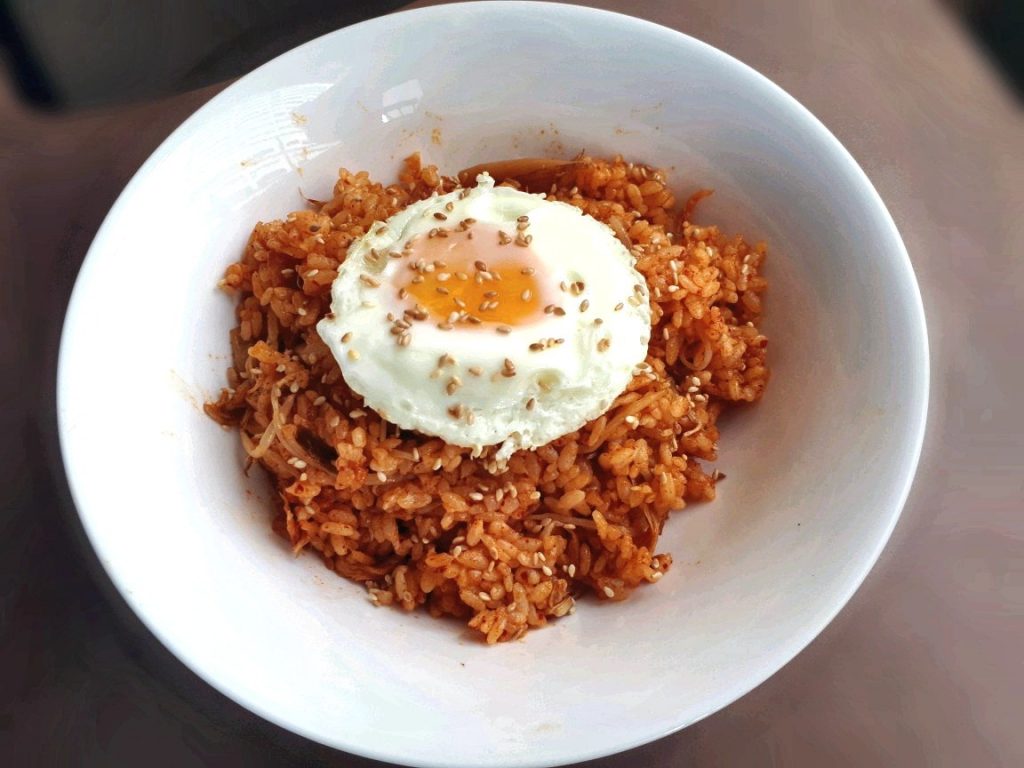 Kimchi Fried Rice Recipe is a Korean rice dish that is mixed with kimchi, bean sprout, and gochujang sauce. It is served with a sunny side-up-egg to add some protein but to make it vegetarian-friendly, you can skip that part.
6. Vegan Bibimbap
This vegan Korean bibimbap is a mix of white rice, mung bean sprout, carrot, zucchini, cucumber, and tofu, drizzled with a peanut butter glaze. It'll become a hit in your house for sure!
7. Braised Gochujang Tofu
Braised gochujang tofu is a quick and simple dish that's packed with flavor. Known as dubu jorim in Korea, it requires frying tofu until golden brown and simmering it in a delicious sauce like soy sauce, sesame oil, and gochujang paste. It is usually served and eaten with rice.
III. Salads
8. Gamja Salad
Gamja Salad is a Korean Potato Salad that is similar to the American version, but includes more crunch and delicious flavors! Try it once, and you'll make it again and again
9. Oi Muchim (Korean Cucumber Salad)
Oi Muchim is a spicy Korean cucumber salad that is tangy, sweet, salty, and crunchy! It's an easy recipe made with pickled cucumbers and Korean red pepper flakes for some spice!
10. Daikon Radish Salad
This Daikon Radish recipe is dressed simply in a garlic vinaigrette and sprinkled with Korean red pepper powder for a bit of heat
11. Carrot Salad
Ready in just a few minutes, this Korean-style Carrot Salad is amazing! It is mixed with garlic, vinegar, coriander powder, and other seasoning. It's fresh, crunchy, and seriously addicting! 
12. Beet Salad
This roasted vegan beet salad is prepared by cooking the beets and then marinating them in a few flavorful ingredients. This simple beet recipe is incredibly delicious, healthy, and perfect for any time of the year.
13. Hobak Bokkeum
This chilled Korean side dish made with zucchini is simple to make and vegetarian-friendly. With toasted sesame oil and sprinkles of toasted sesame seeds, it tastes even better the next day
IV. Stew / Soup
14. Kongnamul Guk 
Kongnamul guk, also known as soybean sprout soup, is a classic Korean dish that is both healthy and delicious. This easy-to-follow recipe is perfect for those looking to try something new and flavorful, and it's also vegan-friendly!
15. Soondubu Jjigae
Keep warm all winter long with this nutritious, vegetable-packed Korean stew. This recipe for soondubu jjigae is mixed with vegetables, mushrooms, heaps of fermented kimchi, and high-protein silken tofu. If you are living in cold weather, this is a perfect hot stew to warm yourself.
V. Side Dishes
16. Hobakjean
This hobakjean is a Korean zucchini pancake which is a traditional Korean breakfast that is commonly served with a dipping sauce.
17. Korean Mung Bean Pancakes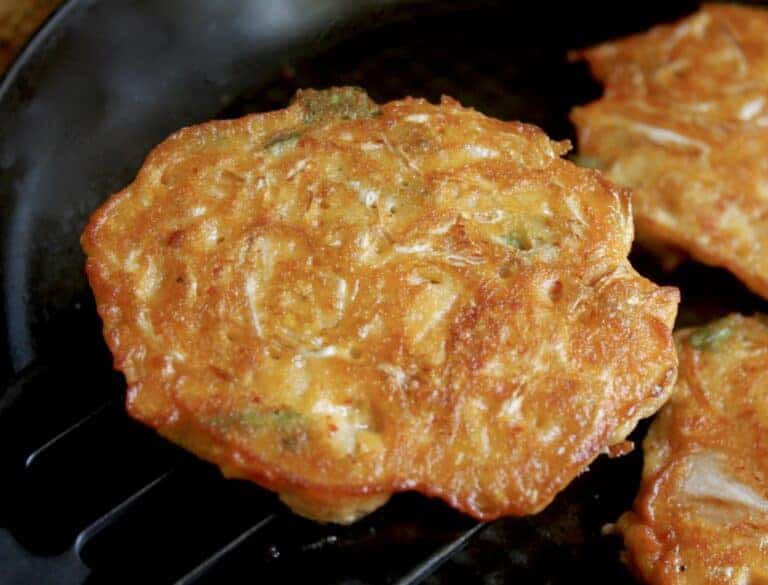 Mung bean pancakes are vegetable-filled pancakes that contain spring onions, bean sprouts, and kimchi that are made from a super easy-to-make mung bean batter. It is easily made vegetarian, or even vegan, to please everyone at dinner.
18. Kimchi
This easy Kimchi recipe will teach you to make authentic Kimchi (Kimchee) at home. It's easy to do with these simple steps! 
If you go to a Korean restaurant, these are the most popular side dishes that they serve. You cannot eat Korean food without Kimchi.
19. Korean Style Pumpkin Wedges
Gochujang and maple roasted pumpkin wedges are a fun take on Fall flavors with an unctuous Korean kick! Sweet, spicy, salty and savory… this unique side dish is addicting!
VI. Sandwiches
20. Korean Seitan Sandwich
This Korean seitan sandwich is packed with flavor! From the delicious combo of tastes in the seitan marinade to the spicy kimchi and delicious crusty bread, this is one vegan sandwich recipe you are not going to want to miss.
Conclusion
There are many delicious Korean vegetarian or vegan recipes that you can find and cook. But the list I included above is one of the best and most recommended vegetarian recipes that you can cook at home.
Some of these roundup recipes can be mixed with proteins like beef, chicken, pork, or egg. But for vegetarian friendly, you can use tofu or soy meat.
Source link